Lieutenant General
Thomas J. "Stonewall" Jackson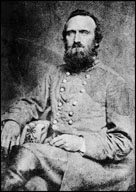 Jackson, Thomas Jonathan
January 21, 1824 Clarksburg (Harrison County), (West) Virginia
May 10, 1863
Guinea Station, Virginia
Confederate
Thomas was the third child of Julia (Neale) and Jonathan Jackson, an attorny. He was of Scotch-Irish descent. Two years after his birth, both his father and his sister, Elizabeth, died of typhoid fever. His mother was left alone to raise her children. Ill health and hard times forced her to send her children to live with relatives. Thomas, then 6-years old, and his sister Laura, were taken in by their uncle, Cummins Jackson, who lived at Jackson's Mill. His mother died in the fall of 1831. Jackson helped around his uncle's farm. He attended school when and where he could. Records show that he attended classes in the community of Westfield for 39 days in 1837.
In 1839, he attended a school in the assembly room of the first Lewis County courthouse in Weston.
In his later years at Jackson's Mill, Thomas served as a schoolteacher for 4 months during the winter of 1840-41.
In 1841, Jackson was elected a constable in Lewis County. He was only 17 at the time, a year short of the legal age of 18, necessary to hold the position. He was appointed to West Point in the summer of 1842. At West Point, Jackson struggled to maintain academic proficiency the first few months, he gradually improved his class standing. He graduated, ranked 17 out of 59 in his class, in 1846.
In the Mexican War, Jackson was a second lieutenant in the 1st U.S. Artillery. At the Battle of Vera Cruz, he won the rank of first lieutenant, and for gallant conduct at the Battles of Contreras and Chapultepec respectively he was brevetted captain and major, a rank which he attained with less than one year's service. He received more promotions than any other officer during the war. During his stay in Mexico City, his thoughts were seriously directed towards religion, and, eventually entering the Presbyterian communion, he ruled every subsequent action of his life by his faith.
In 1848, Jackson's command was stationed at Fort Hamilton for 2 years, then at Fort Meade, in Florida.
In 1851, he resigned from the army after being accepted for a professorship at at the Virginia Military Institute in Lexington, Virginia. He became a professor of Natural and Experimental Philosophy and Artillery Tactics.
Jackson became a zealous and hardworking Presbyterian during his 10 years in Lexington.
Jackson's main motive was devotion to his state of Virginia. When Virginia seceded from the Union on April 17, and the Lexington cadets were ordered to Richmond, Jackson went there in command of the corps. His close friend, Virginia Governor John Letcher, made him an infantry Colonel and sent him to Harper's Ferry, where the first battle with the Union forces was expected.
Upon the outbreak of the Civil War, he was commissioned a Colonel in the Virginia Volunteers and dispatched to Harpers Ferry where he was active in organizing the raw recruits until relieved by Gen. Joseph E. Johnston. While there, Jackson formed the famous Confederate brigade, the "Stonewall Brigade." He was promoted to Brigadier General on June 17. In July, he was promoted to brigadier-general. In November, he was given command of the Shenandoah Valley, in the Department of Northern Virginia.
Leaving Harpers Ferry, Jackson's brigade moved with Johnston to join Gen. P.G.T. Beauregard at Manassas Station. At the First Battle of Bull Run, on being notified of the Union advance to break the Confederate line he called out, "We will give them the bayonet." A few minutes later the steadiness with which the brigade received the shock of battle caused Brigadier Gen. Banard Bee to exclaim: "There stands Jackson like a stone wall."
That fall, Jackson was given command of the Shenandoah Valley and promoted to major general on October 7. His army had to be formed out of local troops, and few modern weapons were available He commanded the Valley District, Department of Northern Virginia on November 4, 1861.
In March, Jackson launched the Shenandoah Valley Campaign into the western part of Virginia. He launched an attack on what he thought was a Union rear guard at Kernstown. Faulty intelligence from his cavalry chief, Col. Turner Ashby, led to a Confederate defeat. The Battle of Kernstown was a tactical defeat, Jackson's only defeat in the Shenandoah Valley. Although he lost the battle, it had the desired result that Lee wanted. It halted Union reinforcements from being sent to Major Gen. George B. McClellan's army for the Peninsula Campaign.
On May 8, Jackson defeated Brigadier Gen. John C. Fremont's advance at the Battle of McDowell. Three weeks later, he claimed another victory at the Battle of Harper's Ferry. He became the master of the Shenandoah Valley. Jackson was in a long feud with Brigadier Gen. William Loring and caused Jackson to submit his resignation, which he was talked out of.
Later that month, Jackson launched a brilliant campaign that kept several Union commanders in the area off balance. He won victories at the battles of Front Royal, 1st Winchester, Cross Keys, and Port Republic. This ranked with the most brilliant campaigns in history. His maneuvers in the campaign are among the best examples of excellent military strategy and deployment. Jackson was promoted to lieutenant general on October 10, and given command of the II Corps, Army of Northern Virginia.
Jackson secretly left the Shenandoah Valley to take a decisive part in Gen. Robert E. Lee's defense around Richmond. In the Seven Days Battle, Jackson was frequently faulted for not being in position on time. As Lee's chief and most trusted subordinate, he was charged with the execution of the more delicate and difficult operations of his Lee's hazardous strategy. Jackson struck McClellan's flank at the Battle of Gaines's Mill.
Detached from Lee, Jackson swung off to the north to face Major Gen. John Pope's army. After a slipshod fight at the Battle of Cedar Mountain, Jackson slipped behind Pope and captured his supply base at Manassas Junction. He then hid along an incomplete branch railroad and awaited Lee and Major Gen. James Longstreet. Attacked before they arrived, Jackson held on until Longstreet could launch a devastating attack which brought a victory at the Second Battle of Bull Run.
When Gen. Robert E. Lee reorganized the Confederate forces in May 1862, Jackson and his command were transferred to the Richmond area. In the Maryland Campaign, Jackson was again detached from the main army. At the Battle of Harpers Ferry, he forced 11,000 Union soldiers to surrender, and rejoined Lee just in time to oppose McClellan's advance. This resulted in a Union victory at the Battle of Antietam. In mid-December, Jackson joined Lee at the Battle of Fredericksburg, a Confederate victory.
In Jackson's greatest day, he led his corps around the Union right flank at the Battle of Chancellorsville and routed the Union XI Corps. This was one of the most dramatic Confederate victories of the Civil War. On the evening of May 2, Jackson was accidentally shot in the left arm and right hand by soldiers of the 18th North Carolina Regiment. His arm was amputated and he soon developed pneumonia.
On May 10, Jackson died at Guinea Station, Virginia. His last words were, "Let us cross over the river, and rest under the shade of the tress." His death was a major blow to the Confederate military.
On May 15, Jackson was buried, according to his own wish, at Lexington, where a statue and a memorial hall commemorate his connection with the Virginia Military Institute. The first contribution towards the bronze statue of Jackson at Richmond was made by the negro Baptist congregation for which Jackson had labored so earnestly in his Lexington years.
***JACKSON FACTS***
Jackson was married two times. On August 4, 1853, he married Eleanor Junkin, daughter of George Junkin, president of Washington College, Virginia. Eleanor died in childbirth on October 22, 1854. Their child, a son, was stillborn. On July 16, 1857, he was married a second time to Mary Anna Morrison, the daughter of a North Carolina clergyman and retired President of Davidson College. Mary Anna gave birth to a daughter, Mary Graham, on April 30, 1858; the baby died less than a month later. In November 1862, Mary Anna again bore a daughter, Julia Laura, the only Jackson child to survive into adulthood.
In the spring of 1861, while he was in command at Harper's Ferry, Jackson acquired the horse that he rode throughout the war. Although the horse was originally purchased by Jackson as a gift for his wife and initially named "Fancy," this name was short-lived. Jackson decided to keep the horse, and it was universally known as "Little Sorrel."
Jackson was very concerned about his health and followed a strict diet which emphasized fruits and vegetables. Although he enjoyed almost every variety of fruit, he had no special fondness for lemons; in fact, peaches were his favorite.
Being a devout Christian, Jackson always regretted having to fight on a Sunday. Next to Lee, Jackson was the most revered of all Confederate commanders. He is recognized as one of the most outstanding tacticians and one of the most gifted tactical commanders in United States military history. He was sometimes balky when in a subordinate position. His aggressive style and military ability enshrined him as a hero among the Confederates. Jackson's death, at a critical moment of the fortunes of the Confederacy, was an irreparable loss was disputed by no one. His Christianit faith was conspicuous, even amongst deeply religious men like Lee and Major Gen. J.E.B. Stuart, and penetrated every part of his character and conduct.
Jackson is acknowledged to be one of the most gifted tactical commanders in United States history. In command, he was extremely secretive about his plans and extremely punctilious about military discipline. Whenever he made his plan for attack, he wouldn only tell his subordinates what they needed to know for the attack. This often brought criticism from the commanders from under him.
Promotions:
Colonel - April 21, 1861
Brigadier General - June 17, 1861
Major General - October 7, 1861
Lieutenant General - October 10, 1862
Major Commands:
lst Brigade, Army of the Shenandoah ( May - July 20, 1861)
Shenandoah Valley, in the Department of Northern Virginia (November 1861- ??)
Valley District, Department of Northern Virginia (lst Brigade, Army of the Shenandoah ( November 4, 1861 - June 26, 1862)
II Corps, Army of Northern Virginia (June 26, 1862-May 2, 1863)