Brigadier General John H. Morgan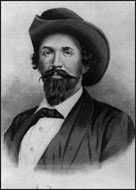 Morgan, John Hunt
June 1, 1825
Huntsville, Alabama
September 4, 1864
Greeneville, Tennessee
Confederate
One of the leading Confederate raiders, Morgan found it difficult to comply with the constraints placed upon his activities by his superiors. Born in Alabama, he had served in the Mexican War as a first lieutenant with the lst Kentucky. Unlike many volunteer officers, he did see action in the war.
Hunt became a businessman, being a hemp manufacturer, in Lexington, Kentucky after the war. He raised a militia unit, the Lexington Rifles, in 1857.
Even though his state never did secede, he did join the Confederacy. He led his squadron in central Kentucky and at Shiloh and was then promoted to Colonel. He led his regiment during the Corinth siege and then took 2 regiments on his first famous Morgan's Raid through Kentucky from July 4, to August 1, 1862. This raid, together with that of Brigadier Gen. Nathan B. Forrest, greatly hampered the advance of Don C. Buell on Chattanooga.
In October 1862, he led his brigade on his second famous Morgan's Raid through his adopted state. During the Murfreesboro Campaign, he led a mounted division into Kentucky, from December 21, 1862, through January 1, 1863, against Rosecrans' supply lines. Having been promoted to Brigadier General, he also received the thanks of the Confederate Congress for his exploits.
Following the Tullahoma Campaign, he again received permission to enter Kentucky. On this raid from July 2-26, 1863, he violated Gen. Braxton Bragg's instructions not to cross the Ohio River. Crossing over into Indiana, he moved into Ohio, skirting Cincinnati which went into a panic.
Pursued by Union cavalry and militia, he was finally captured near New Lisbon, Ohio, on July 26th - after most of his command had been taken prisoner. Confined in the Ohio State Penitentiary, he escaped with some others on November 26, 1863.
Placed in command in East Tennessee and southwestern Virginia the next year, he was surprised and killed while en route to attack Union forces at Greeneville, Tennessee, on September 4, 1864.
Morgan was related by marriage to Lieutenant Gen. A.P. Hill and B.W. Duke (and remotely also by marriage to Union Gen. John Buford) . He was a legendary cavalry commander, and raider, in the Major Gen. J.E.B. Stuart tradition.
Promotions:
Captain- September ??, 1861
Colonel - April 4, 1862
Brigadier General - December 11, 1862
Major Commands:
Morgan's Kentucky Cavalry Squadron (1861)
2nd Kentucky Cavalry (April 1862)
cavalry brigade, Army of Tennessee (November 20, 1862-February 25, 1863)
brigade, Wheeler's Cavalry Division, Army of Tennessee (February 25-March 16, 1863)
Division, Wheeler's Cavalry Corps, Army of Tennessee (March 16 - July 26, 1863)
cavalry brigade, Department of East Tennessee (early 1864 - May 2, 1864)
cavalry brigade, Department of Southwestern Virginia (May 2 - June 22, 1864)
Departments of East Tennessee and Southwestern Virginia (June 22 - August 30, 1864)