General Braxton Bragg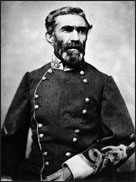 Bragg, Braxton
March 22, 1817
Warrenton, NC
September 27, 1876
Galveston, Texas
Confederate
In 1833, Bragg entered West Point, and graduated 5th out of 50 in 1837. He was assigned to the 3rd Artillery. He served in the Seminole War before joining Gen. Zachary Taylor's army in its Texas and Mexican War campaigns. Distinguishing himself at Buena Vista, Bragg was brevetted Lieutenant Colonel.
In 1856, Bragg resigned from the army, purchased a plantation in Louisiana, and became involved in designing the state's drainage and levee system. Secession and the outbreak of the Civil War returned Bragg to military life, as he was commissioned a Brigadier General in the Confederate Army. He was assigned to command the coast between Pensacola and Mobile.
Bragg was appointed a brigidier general of the Confederate Provisional Army on March 7, 1861 and commanded the coast between Pensacola, Florida and Mobile, Alabama. He was promoted to major general on September 12. Beginning in 1862, Bragg moved his operations northward, seeing action in the Tennessee and Kentucky theaters. Though he fought with great energy, he earned a reputation for failing to follow through on initial gains. He commanded the II Corps at the battles of Shiloh and Corinth. Bragg was placed in command of the Army of Tennessee, with which he invaded Kentucky in 1862, but was forced out after the battle of Perryville. In June, he was promoted to a full-general.
By the fall of 1863, Bragg had been forced out of his positions and into the mountains of Tennessee, but he turned the tables on his pursuers with a notable victory at Chickamauga. The failure to follow up the victory at Chickamauga, combined with Bragg's unpopularity, led a number of Confederate generals to urge President Jefferson Davis to remove Bragg from the command of the Army of Tennessee. Davis did not heed this advice, however, and retained Bragg in his position.
Once again, however, he chose to lay siege to the Union army at Chattanooga (Lookout Mountain and Missionary Ridge) instead of remaining on the offensive. As a result, he was attacked by Union forces led by Gen. Ulysses S. Grant and forced to retreat from Chattanooga to Dalton, Georgia. There, on December 2, 1863, he surrendered command of his army to Gen. Joseph E. Johnston.
After leaving his command, Bragg was nominally in charge of the Confederate capital, Richmond, but his real responsibility was to serve as adviser to Davis. He accompanied Davis in his flight from Richmond, and was captured on May 9, 1865.
Although he was held to be a talented organizer and strategist, Bragg was described as having an unpleasant personality and somewhat lacking in intellect.
After the war, he practiced as a civil engineer in the Gulf South, serving, for example, as commissioner of public works in Alabama for 4 years.
Promotions:
Major General - September 12, 1861
General - April 12, 1862
Major Commands:
Confederate Provisional Army, Pensacola-Mobile coast
Army of Tennessee
Chief of Staff to President Jefferson Davis