Major General George E. Pickett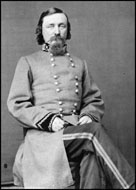 Pickett, George Edward
January 28 1825
Richmond, Virginia
July 30 1875
Norfolk, Virginia
Confederate
Pickett graduated West Point in 1846. He ranked last in his 59-man class. He was commissioned in the Infantry.
He served in the Mexican War and on frontier duty. In the Mexican War, he was brevetted lieutenant and captain for his service in the Siege of Vera Cruz
and during the subsequent advance on Mexico City. He served in Texas, Virginia, and Washington Territory until 1861, when he resigned his commission to enter the Confederacy.
He was commissioned as a Colonel and served on the lower Rappahannock before being appointed a Brigadier General on February 13, 1862, with the rank being effective as of 14 Jan. 1862. He served under Major Gen. James Longstreet during the Seven Days' Campaign and was wounded in the shoulder at Gaines' Mill. On October 10, 1862, he was promoted to major general and was put in command of a division.
He was immortalized in the charge against the center of the Union line in "Pickett's Charge" on the 3rd day at the Battle of Gettysburg. Gen. Robert E. Lee ordered the massive assault, which followed an intensive but ineffectual artillery barrage. Under Pickett's immediate command were the brigades of Brigadier Gens. James L. Kemper, Richard B. Garnett, and Lewis A. Armistead. According to reports, Pickett expected to break the Union defenses. At mid-afternoon, the forward movement began with the troops dressed as if on parade as they marched the 1.5 miles into the Union guns.
Pickett, as division commander, attempted to coordinate the ill-fated movement and acquitted himself bravely and well. The task was impossible, and he ordered his men to withdraw when clearly they could not break the Union center. On September 23, he was sent with his shattered division to recuperate and recruit in the Department of Virginia and North Carolina, and was made department commander.
Notwithstanding the bravery of his troops and his own efforts on the field, Pickett's military reputation declined after the battle. Lee relieved him of his command after Sayler's Creek, only days before the final surrender at Appomattox.
After the war, he was offered a generalship by the Khedive of Egypt and the position of U.S. marshal by President Ulysses S. Grant, but he turned down both offers. Instead, he became an insurance salesman in Richmond, Virginia and died in Norfolk July 30, 1875.
Pickett was said to have never forgiven Lee for the murderous charge at Gettysburg.
Promotions:
Colonel - June ??, 1861
Brigadier General - February 13, 1862
Major General - October 10, 1862
Major Commands:
Dept of Virginia and North Carolina