General Joseph E. Johnston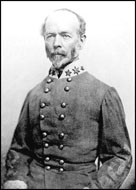 Johnston, Joseph Eggleston
February 3, 1807
Farmsville, Virginia
March 21, 1891
Washington, D.C.
Confederate
Johnston graduated from West Point in 1829. His class rank was 13 out of 46 and was commissioned in the Artillery. He served in garrison duty, the Black Hawk Expedition, frontier duty, and in the Seminole War. He resigned his commission in 1837 to become a civil engineer in Florida.
He took part in John Wesley Powell's geological expedition to Florida in 1838. His use of military skills during this attack earned him a recommission as 1st lieutenant in the Topographical Engineers.
During the Mexican War, he won 2 brevets and was wounded 5 times. From 1855-1860, he served as Lieutenant Colonel in the 1st U.S. Cavalry on the frontier and in Kansas during the border disturbances. On June 28, 1860, he was appointed quartermaster general and promoted to Brigadier General.
On April 22, 1861, he resigned from the U.S. Army, shortly before Virginia seceded from the Union. He was the highest-ranking regular army officer to resign and join the Confederacy. He was appointed major general of Virginia Volunteers but was reduced in rank to Brigadier General on May 14, when the Virginia troops were absorbed into the Confederate Army.
His success as co-commander at the Battle of 1st Manassas/Bull Run led to his promotion to full general on August 31, 1861, to rank from July 4, 1861. Johnston was not happy with the situation, since he was placed fourth among the Confederacy's full generals. Gens. Samuel Cooper, Albert S. Johnston, and Robert E. Lee had greater seniority.
He was wounded twice in battle at Seven Pines, and took several months' leave to recover. Upon his recovery he was given charge of a largely supervisory command entitled the Department of the West and was ordered to stop Gen. Ulysses S. Grant. He received commands from President Jefferson Davis which were unclear and at times contradictory. This, and the lack of troops, contributed to the eventual Confederate surrender of the garrison on July 4, 1863.
In December of 1863, Johnston was placed in command of the Army of the Tennessee and successfully reorganized the army and turned it into an offensive force. Davis did not appreciate Johnston's strategy of allowing his opponents to fight on the offensive and expending their strength, after which he would be able to counterattack his now-weakened enemy. Davis eventually relieved Johnston of command on July 17, 1864 and replaced him with Lieutenant Gen. John B. Hood. With Sherman having marched clear through Georgia and begun his drive through the Carolinas, a clamor arose in the Confederate Congress for Johnston's resumption of command. Davis finally relented in early 1865 and Johnston took eventual command of 3 departments.
After Lee surrendered, Davis ordered Johnston to continue the war. He recognized that further efforts would be hopeless and signed the final surrender terms on April 26, 1865 at the Bennett House near Durham Station, North Carolina. He had been one of the most effective Confederate commanders when he was not hampered by directives from the president.
After the end of the Civil War, he worked in insurance and lived in different southern cities. Engaged in much debate over the causes of the Confederate defeat, he wrote his "Narrative of Military Operations" in 1874. The book was highly critical of Davis and many of his fellow generals. He was elected to the U.S. House of Representatives in 1878, serving from 1879 to 1881. From 1885 to 1891, during President Grover Cleveland's administration, he worked as Commissioner of Railroads.
In an example of the civil relationships between former wartime opponents, Johnston died of a cold caught while attending the funeral of his arch-opponent, Major Gen. William T. Sherman.
Promotions:
Major General (PCA)- ??
Brigadier General - June 28, 1860
General - August 31, 1861
Major Commands:
Army of the Shenandoah (June 30 - July 20, 1861)
Army of the Potomac (July 20 - October 22,1861)
Department of Northern Virginia (October 22, 1861 - May 31, 1862)
Department of the West (December 4, 1862 - December 1863)
Army of Tennessee (December 27, 1863 - July 18, 1864)
Army of Tennessee and Department of Tennessee and Georgia (February 25 - April 26, 1865)
Department of South Carolina, Georgia and Florida (February 25 - April 26, 1865)
Department of North Carolina (March 16 - April 26, 1865)