Lieutenant General Richard S. Ewell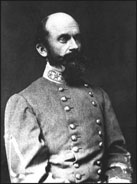 Ewell, Richard Stoddert
February 8, 1817
Georgetown, D.C.
January 25, 1872
Spring Hill, Tennessee
Confederate
When Ewell was 9-years old, his family moved to Prince William County, Virginia. Like his brother Benjamin, he attended West Point. He graduated in 1840, ranked 13 out of 42. He was then assigned to the 1st U.S. Dragoons. He served on frontier duty, fighting the Indians, and the Mexican war, where he was brevetted a captain for his service. He served in Baltimore, then in the Southwest.
Ewell resigned his U.S. Army commission to join the Confederacy on May 7, 1861. He was commissioned as a Colonel and took over the camp of cavalry instruction at Ashland. He was promoted to Brigadier General, and 6 months later, to major general.
Ewell lost a leg in the battle at Groveton in 1862, but obtained a wooden one, with which he returned to duty in 1863. A lieutenant general, he was sent to replace Lieutenant Gen. Thomas J. "Stonewall" Jackson as the commander of the II Corps. Ewell found riding difficult and was wounded twice, but remained active in the campaigns from Gettysburg to Spotsylvania Court House.
Ewell, affectionately called "Old Bald Head" by his troops, fell from a horse at Spotsylvania ( at the "Bloody Angle") and was unable to continue field command. He was given command of the Department of Henrico, then the defenses of Richmond. On April 6, 1865, he was captured at Sayler's Creek, and held prisoner at Fort Warren, Massachusetts, until August 19.
After the war, Ewell spent his retirement as a farmer near Spring Hill, Tennessee. Some blamed him for the defeat at Gettysburg, because of his failure to capture Cemetery Hill on July 1. Nevertheless, it is unlikely that his securing of the position could have, in itself, brought about a Confederate victory.
Promotions:
Colonel - May 7, 1861
Brigadier General - June 17, 1861
Major General - January 24, 1862
Lieutenant General - May 23, 1863
Major Commands:
Camp commander of cavalry instruction, Ashland
III Corps, Gettysburg, Wilderness, Spotsylvania
Department of Henrico
Establish the Richmond defenses