Rear Admiral Raphael Semmes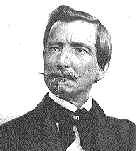 Semmes, Raphael
September 27, 1809
Charles City, Maryland
August 30, 1877
Mobile, Alabama
Confederate
A brother of future Brigadier Gen. Paul Jones Semmes, Raphel was appointed a midshipman on April 1, 1826, promoted to lieutenant in 1837, and to commander in 1855. Between cruises, he studied law and in 1834, he was admitted to the bar. During the Mexican War, he commanded the USS Somers in the Gulf of Mexico. The ship was lost in a storm, capsized in a gale while blockading Vera Cruz, Mexico, in December 1846. Semmes was commended for his actions during the loss of the Somers. He narrowly escaped drowning in the accident.
After the Mexican War, Semmes went on extended leave at Mobile, Alabama, where he practiced law. In 1849, he wrote of his war experiences in "Service Afloat and Ashore During the Mexican War." He was promoted to the rank of commander in 1855 and was assigned to lighthouse duties until 1860.
When Alabama seceded, he resigned his commission to become a commander in the Confederate States Navy. Before the outbreak of war, he was sent north to purchase ships and military supplies. He was then appointed head of the Confederate Lighthouse Service. Semmes had other work in mind though. He strongly believed that the Confederacy's small navy should include commerce destroyers to weaken the North's overseas trade, and he wanted to command one of these cruisers. Supported by Secretary of the Navy Stephen R. Mallory, Semmes obtained a steamer at New Orleans and converted it into a cruiser, the CSS Sumter, the first of the Confederacy's commerce destroyers. During 6 months at sea, he raided U.S. commercial shipping in the Caribbean Sea and Atlantic Ocean, accounting for 18 merchant vessels while eluding pursuing Union warships. In January 1862 the state of the Sumter was such that she required a major overhaul. Semmes attempted to have her repaired at Gibraltar, but the arrival of Union warships ended her career. The vessel was decommissioned and sold at Gibraltar early in 1862.
Anxious to acquire more and better cruisers, Mallory had authorized James T. Bulloch to obtain them in Europe. One of Bulloch's ships built in England, the CSS Alabama, was assigned to Semmes, now a captain, who took command at Terceira in the Azores. During the next 22 months, August 1862-June 1864, the Alabama was responsible for 55 prizes captured and sunk--more than any other Confederate cruiser. But as Semmes's actions made him a hero in the South, he became a hated "pirate" in the North, and stopping him became a paramount objective of U.S. Secretary of the Navy Giddon Welles.
To Northerners, he appeared to relish his role as destroyer, and indeed he was relentless in his mission. Semmes and his crew escaped to England, where he was promoted to captain and was given command of the newly constructed CSS Alabama. Semmes sailed on the CSS Alabama from August of 1862 to June of 1864. His operations carried him from the Atlantic, to the Gulf of Mexico, around the Cape of Good Hope, and into the East Indies. During this cruise, the CSS Alabama captured some 60 Union merchantmen and destroyed one U.S. warship, the USS Hatteras, in a 13-minute battle off Galveston on January 11, 1863.
By late 1863, Semmes was encountering fewer U.S. merchantmen, an indication of his success. The Alabama and the CSS Florida had caused hundreds of U.S. vessels either to remain in port or be transferred to foreign ownership. Semmes's success, however, was not without cost to his health. In addition to the demands of constant vigilance during months at sea, he was disgusted by a lack of discipline in his largely mercenary crew. In June of 1864, he brought the Alabama to Cherbourg, France, for major repairs, expecting to be replaced. After the arrival of the USS Kearsarge off Cherbourg, he sent a challenge to Captain John A. Winslow, believing that the 2 wooden vessels were evenly matched.
The battle was fought outside Cherbourg Harbor on June 19, 1864, and the Kearsarge's heavy pivot guns and well-trained gun crews made the difference. After just over an hour, the Alabama was beaten and 19 of the men aboard it killed or drowned. Semmes was rescued from drowning by the British yacht Deerhound, aboard which he was brought to England. Stung by his defeat, he returned to the Confederacy, where he was promoted to rear admiral.
In February of 1865, Semmes took command of the James River Squadron (3 ironclad rams and 3 wooden steamers), but there was little action until the evacuation of Richmond on April 2nd, when he destroyed his ships to prevent their capture and organized his sailors and naval cadets into a brigade. At Danville, Virginia, he was made a Brigadier General by President Davis, although the appointment was never made official. A few weeks later, Semmes and his sailors were with Major Gen. Joseph E. Johnston when he surrendered his army at Durham, North Carolina.
On December 15, 1865, Semmes was arrested and brought to Washington, D.C. to be tried for treason and piracy. The US. government also investigated charges that he had mistreated prisoners and had violated the rules of war. All charges were eventually dropped, however, and after 3 months detainment, he was released. Harassment from the government continued, however, and he was unable to keep positions he had obtained as a professor of philosophy and literature at Louisiana State Seminary (now Louisiana State University), a judge, and a newspaper editor. He finally returned to Mobile to practice law.
In 1869, Semmes defended both his actions at sea and the political actions of the Southern States in his published "Memoirs of Service Afloat During the War Between the States." Semmes is a member of the Alabama Hall of Fame.
Promotions:
Commander- ??
Captain- ??
Rear Admiral- February ??, 1865
Major Commands: