The Battle of Manassas Station Operations
August 25-27, 1862 in Prince William County, Virginia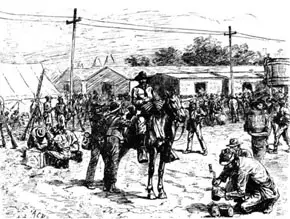 Jackson's troops pillaging Federal supplies at Manassas Junction just prior to the Second Battle of Manassas.
   The Battle of Manassas Station Operations was also known as the Battle of Bristoe Station/Union Mills/Kettle Run/and Bull Run Bridge. The total casualties were 1,100 men for both armies combined.
Maj. Gen. Thomas J. "Stonewall" Jackson's soldiers had already demonstrated their ability to make the long, rapid marches that earned them the nickname "Foot Cavalry" before they started on a mad dash around to the rear of Maj. Gen. John Pope's 75,000-man Union army. Gen. Robert E. Lee had divided his command in half and sent Jackson and his 24,000 men to make one of the greatest marches of the war.
On August 26, while walking 50 miles in 2 days, Jackson's men suddenly appeared in the evening at Bristoe Station. There, they tore up the track of the Orange & Alexandria Railroad, Pope's main supply line, and wrecked 2 Union trains.
By 9:00 P.M., Jackson had learned that the massive Union supply depot, 5 miles up the tracks at Manassas Junction, was only lightly guarded. Stonewall selected one of his most trusted brigade commanders, Gen. Isaac Trimble, to march immediately to Manassas Junction and capture the stores. Jackson sent Gen. Jeb Stuart and his cavalry along with Trimble and his 2 regiments. In a rare night attack that lasted but 5 minutes, the Confederates overran and captured more than 300 of the surprised Union troops.
On August 27, while leaving 3 brigades to guard his rear, Jackson and the rest of his men marching to Manassas Junction in the morning. There they found 100 boxcars and dozens of warehouses brimming with supplies beyond their wildest dreams. After beating back an attempt by a small Union force to retake the Junction, Jackson allowed his men to take whatever they wanted. The ragged, hungry soldiers had a day they would never forget; they ran from warehouse to warehouse helping themselves to everything from shoes and new underwear to lemons and cakes. Whatever couldn't be carried or loaded onto wagons was burned before Jackson set out the next morning to escape the Union forces he knew would be converging on the depot.
Jackson routed a Union brigade near Union Mills (Bull Run Bridge), inflicting several hundred casualties and mortally wounding Union Brig. Gen. G.W. Taylor. Ewell's Division fought a brisk rearguard action against Hooker's division at Kettle Run, resulting in about 600 casualties. Ewell held back Union forces until dark.
During the night, Jackson marched his divisions north to the First Manassas battlefield, where he took position behind an unfinished railroad grade.
For the rest of the war, the memory of the great quantity of supplies captured at Manassas Junction spurred these Confederate soldiers on to extraordinary marches with the hope of similar gratification
Site Map
| Copyright © 2012
USwars.com
,