Lieutenant General Nathan B. Forrest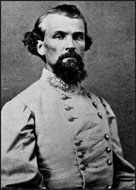 Forrest, Nathan Bedford
July 13 1821
Bedford City, Tennessee
October 29 1877
Memphis, Tennessee
Confederate
Before the Civil War started, Forrest was a wealthy businessman and had amassed a fortune (which he estimated at $1,500,000) as a slave trader and plantation owner. He was the son of a poor blacksmith and had numerous brothers and sisters. When his father died in 1836, Forrest helped to take care of his family. He enlisted in the Confederate Army as a private.
He raised the 7th Tennessee Cavalry battalion with his own money. In October 1861, he was promoted to Lieutenant Colonel.
At Fort Donelson, he escaped with his own command and several hundred infantrymen instead of surrendering with the fort. At Shiloh, he provided the rear-guard protection while the Confederate army retreated. On July 21, 1862, he was promoted to brigidier general. He led several cavalry raids, the 2 biggest ones in Tennessee.
After the battle of Chickamauga, he had a fight with Gen. Braxton Bragg. This led to Forrest being transferred. He was promoted to major general on December 4, 1863.
After the transfer, he was given independent command. He commanded the battle at Fort Pillow in April 1864. This battle was considered a massacre by the North.
His engagement of Union troops at Brice's Crossroads on June 10, 1864 is considered by many the perfect battle. He commanded the cavalry and assisted with Lieutenant Gen. John B. Hood's Franklin & Nashville Campaign.
He commanded the cavalry corps and Department of Alabama, Mississippi and East Louisiana from January 28 - May 4, 1865. On February 28, 1865, he was promoted to lieutenant general and given the duty of guarding the frontier from Decatur, Alabama, to the Mississippi River. His last battle was in the defense of Wilson's Raid to Selma in April 1865. This would be his only failure during the war. His diminished command was included in Gen. Richard Taylor's surrender.
Forrest stated that he was under fire 179 times and captured around 31,000 Union prisoners during his 4 years of service
Forrest was wiped out financially by the war. He became a farmer and the president of the Selma, Marion & Memphis Railroad, which he helped to promote, until 1874. He had a connection to the the Ku Klux Klan shortly after its founding. He was apparently its Grand Wizard.
Forrest once summed up his military theory as "Get there first with the most men." He died, probably of diabetes, at Memphis on October 29, 1877 and is buried there.
Forrest was the greatest and most feared cavalry leader of the Civil War. Uneducated but not illiterate, Forrest was a natural tactician with a true understanding of strategy, and his underlying philosophy of warfare was "War means fightin' and fightin' means killin'."
Promotions:
Private- ??, 1861
Lieutenant Colonel - October ??, 1861
Brigadier General - July 21, 1862
Major General - December 4, 1863
Lieutenant Colonel - February 28, 1865
Major Commands:
Raised the 7th Cavalry
Given independent command as a raider