Lieutenant General Richard Taylor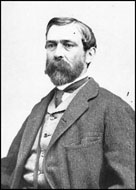 Taylor, Richard
January 27, 1826
near Louisville, Kentucky
April 12, 1879
New York City, New York
Confederate
Taylor was the son of former President Zachary Taylor and former brother-in-law of soon to be President Jefferson Davis He was educated at Edinburgh in France, then at Harvard and Yale. He was a powerful planter and a Louisiana state senator. He served as a military secretary to his father in Mexican War.
He commanded a brigade under Ewell in Jackson's Shenandoah Valley campaign, Seven Days, / command of Dist. of West Louisiana, Red River campaign, Mansfield, Pleasant Hill/ command of Dept. of Alabama and Mississippi, held out at Mobile.
As a member of the Democratic party, he voted for seccession at the Louisiana convention.
He joined the Confederacy and , with little military experience, took command as a Colonel in the 9th Louisiana Infantry Regiment in July of 1861. Proving himself an able combat commander, he was promoted all the way to a lieutenant general. He served in Virginia, Mississippi and Louisiana, and is remembered for his victory over Major Gen. Nathaniel P. Banks at Mansfield, Louisiana and his successes in the Red River Campaign. On August 15, 1864, he took control of the Department of Alabama and Mississippi and commanded it until the end of the war. He managed to delay the Union from capturing Mobile, Alabama until April 1865.
After Gens. Robert E. Lee and Joseph E. Johnston had surrendered, Taylor realized that further resistance in his department would lead only to its destruction, he surrendered to Major Gen. E.R.S. Canby on May 4 at Citronelle, Alabama. It was the last major surrender east of the Mississippi River. His men were paroled 4 days later. He had proved himself an able and courageous leader against superior forces.
After the war, Taylor returned to New Orleans penniless. He became an effective advocate of Southern rights during the Reconstruction period. He wrote his memoirs, "Destruction and Reconstruction" in 1879. It was published a week before his death.
Promotions:
Colonel - July ??, 1861
Brigadier General - October 21, 1861
Major General - July 28, 1862
Lieutenant General - April 8, 1865
Major Commands:
District of West Louisiana
Department of Alabama and Mississippi