Major General Gideon J. Pillow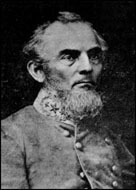 Pillow, Gideon Johnson
June 8, 1806
Williamson City, Tennessee
October 8, 1878
Helena, Arkansas
Confederate
In 1827, Pillow graduated from the University of Nashville. Afterwards, he became a successful lawyer at Columbia, Tennessee, with future President James K. Polk. He rapidly rose to prominence. He was a delegate to the 1844 National Democratic Convention, and helped in securing the nomination of Polk for the presidency.
In July 1846, he abandoned peaceful pursuits to accept a commission as a Brigadier General of the Tennessee Volunteers in the Mexican War.
At first, he served with Gen. Taylor in northern Mexico, but was transferred to Gen. Winfield Scott's command at the beginning of the Siege of Vera Cruz. In the siege, he took an active part, and was appointed one of the American commissioners to receive the surrender of the city. At Cerro Gordo, during the impetuous charge, he received a severe wound. On April 30, 1847, he was promoted to major general. He fought with gallantry at Churubusco, Molino del Rey, and Chapultepec, where he was wounded a second time. After the war, he anonymously published an account of the Battle of Padierna in which he claimed that he was responsible for the victory.
Pillow resumed his law practice and also engaged in planting. Pillow later took part in the conventions that nominated Franklin Pierce for President, and ran unsuccessfully for Vice President in 1852 and 1856. Although he opposed secession, he joined the Confederacy when Tennessee seceded. Tennessee Governor Harris appointed Pillow to major general in the Provisional Army of Tennessee. He largely helped in the organization of the State forces. On July 9, 1861, he was commissioned a Brigadier General of the Provisional Army of the Confederate States.
Being assigned to Gen. Leonidas Polk's department as second-in-command, Pillow successfully fought at Belmont against Gen. Ulysses S. Grant. At Fort Donelson, he was second-in-command to Brigadier Brigadier Gen. John B. Floyd and handled his troops with skill and ability. The battle was all in vain, for the Confederate army was surrounded by superior numbers and had to surrender. Floyd and Pillow turned over the command to Brigadier Gen. Simon B. Buckner, who officially surrendered the fort and garrison to Grant. Before the surrender, Floyd sent his Virginia troops on steamboats and carried them off. Pillow and a portion of his staff crossed to the opposite side of the Cumberland River and made their way to Clarksville. He was suspended from command due to his actions at Fort Donelson: given command of the fort, he passed it over to Buckner just before the fort surrendered, so as not to be responsible for its fall to the Union forces. He was never given another important command during the war. Subsequently, he led a detachment of cavalry in the Southwest under Gen. P.G.T. Beauregard. Later, he was made Chief of Conscripts in the Western Department.
After the war, Pillow joined former Tennessee governor, Isham G. Harris, and embarked on a successful law practice in Memphis, Tennessee.
Promotions:
Brigadier General - July 9, 1861
Major General -
Major Commands:
Tennessee Provisional Army
Fort Donelson
2nd Brigade/1st Division/Hardee's Corps