Lieutenant General Leonidas Polk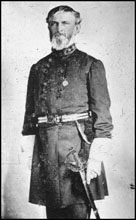 Polk, Leonidas
April 10, 1806
Raliegh, North Carolina
June 14, 1864
Pine Mountain, Georgia
Confederate
Polk came from a wealthy and prominent family and was a cousin of President James Polk and the uncle of Union Brigadier Gen. Lucius E. Polk.
After attending the University of North Carolina briefly, he was accepted to West Point in1823. He graduated 8th out of 38 in his Class of 1827. He was commissioned in the Artillery.
Polk resigned 6 months after graduation to study for the Episcopal ministry at the Virginia Theological Seminary. Ordained a deacon in the Espicopal Church 1830, he was named Missionary Bishop of the Southwest in 1838 and Bishop of Louisiana in 1841. He helped to establish the University of the South in 1860.
During the secession crisis, his loyalties laid with the South, it fighting for a sacred cause. His friend and West Point classmate, President Jefferson Davis, talked him into accepting a commission in the Confederate Army. On June 25, 1861, he was appointed a major general in the Provisional Confederate Army. He was given command of Department No. 2, including forces with the mission of fortifying and defending the Mississippi River approaches. On September 4th, his force occupied Columbus, Kentucky, violating Kentucky's neutrality and hurting the Confederate cause in the area.
As a corps commander, he commanded his corps at the battles of Shiloh, Perryville, Murfreesboro, and Chickamauga. Promoted to lieutenant general on October 10, 1862.
After Chickamauga, Gen. Braxton Bragg removed Polk from command for not attacking when told to do so. Bragg also ordered him to be court-martialed but Davis had him reinstated. Polk was then transferred to command the Department of Alabama, Mississippi, and East Louisiana.
On June 14, 1864, while commanding his Corps in the Army of Mississippi during the Atlanta Campaign, he was killed by artillery fire while observing the Union positions at the Pine Mountain.
Promotions:
Major General - June 25, 1861
Lieutenant General - October 10, 1862
Major Commands:
commanded Dept No. 2 (Red River to Kentucky)
command the Dept of Alabama Mississippi and East Louisiana