Major General Stephen D. Ramseur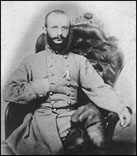 Ramseur, Stephen Dodson
May 31, 1837
Lincolnton, North Carolina
October 20, 1864
Cedar Creek, Virginia
Confederate
Ramseur attended Davidson College, where he studied mathematics under Daniel H. Hill, another future Confederate major general. He continued at the West Point and graduated in 1860, ranked 14 out of 41 in his class. He was assigned to the artillery and commissioned a second lieutenant. He was assigned to the 3rd and 4th U.S. Artillery regiments just before the start of the war.
Ramseur did not wait until his home state of North Carolina to secede, and he resigned his commission on April 8, 1861, and joined the Confederate army in Alabama. He quickly transferred to the 10th North Carolina Militia and was promoted to Lieutenant Colonel of the 3rd North Carolina Infantry on May 27, 1861. He was injured with a broken collarbone while being thrown from his horse in July and was out of service until the following spring.
At the start of the Peninsula Campaign, Ramseur commanded artillery in Major Gen. John B. Magruder's Division, but he was elected Colonel of the 49th North Carolina Infantry on April 12, 1862. In the Seven Days Battles, he saw his first significant action at Malvern Hill, where he was severely wounded in the right arm. The arm mangled and paralyzed, Ramseur returned home to recuperate. After Antietam, he returned from leave as a brigade commander in Major Gen. Robert E. Rodes's division of Lieutenant Gen. Thomas J. "Stonewall" Jackson's corps. At 25 years old, he was promoted to Brigadier General, becoming the the youngest general in the Confederate army. This was a remarkable accession to rank for someone who had missed so many battles, but Gen. Robert E. Lee had been very impressed by his aggressive performance at Malvern Hill.
At Chancellorsville, Ramseur's was the lead brigade in Jackson's famous flank march May 2, against the Union right. Ramseur's performance was actually overly aggressive because his brigade moved out in front of the other brigades too quickly, became exposed, and ran out of ammunition. They had to have reinforcements rush in from the neighboring brigade to help consolidate their gains. His brigade had higher casualties in the battle, more than 50%, than any other Confederate brigade.
On the following day, he was wounded again, this time in the leg. Lee wrote about Ramseur's brigade after the battle: "I consider its brigade and regimental commanders as among the best of their respective grades in the army, and in the battle of Chancellorsville, where the brigade was much distinguished and suffered severely, General Ramseur was among those whose conduct was especially commended to my notice by Lieutenant General Jackson, in a message sent to me after he was wounded."
On July 1st at Gettysburg, Rodes led 5 brigades, including Ramseur's, in an assault against the right flank of the Union I Corps. Ramseur started in reserve, but the failed attacks by the brigades of Brigadier Gens. Alfred Iverson and Edward O'Neal required him to move forward to keep the assault from petering out. He hit the defenders in the rear, routing them and driving them back through the town. He was dismayed when ordered to halt the pursuit of the Federals at the foot of Cemetery Hill. This was the last fighting at Gettysburg for Ramseur. Rodes' division sat idle just northwest of Cemetery Hill for the next 2 days and retreated to Virginia with the rest of the Army of Northern Virginia. Ramseur returned home on leave to marry Ellen E. "Nellie" Richmond, and they spent 3 months together in the army's winter encampment.
In the Wilderness, at the start of Gen. Ulysses S. Grant's Overland Campaign, Ramseur was once again kept in reserve. On May 7, his brigade was called forward and smashed into Major Gen. Ambrose Burnside's IX Corps, which was attempting to outflank Ramseur's corps. Both Lee and corps commander Lieutenant Gen. Richard S. Ewell wrote in admiration of his gallant attack, which drove Burnside's troops back over a half mile.
At Spotsylvania Court House, his brigade counterattacked Gen. Winfield S. Hancock II Corps after its assault on the Mule Shoe at the "Bloody Angle". He was wounded again in this attack of hand-to-hand fighting and shot from his horse in the right arm. Even after being wounded, he refused to leave the field.
Ramseur assumed command of Major Gen. Jubal A. Early's division when Early took over from Ewell after Spotsylvania. He received a temporary promotion to major general on June 1. He fought at Cold Harbor and was the first division to intercept Grant before he could capture Petersburg.
In June 1864, Ramseur and the rest of Early's corps was sent by Lee to the Shenandoah Valley to draw Union forces away from the Seige of Petersburg, in the Valley Campaign. They conducted a long and successful raid down the Valley, into Maryland, and reached the outskirts of Washington, D.C., before turning back. On September 19, Major Gen. Philip Sheridan attacked the Confederates at Opequon ( 3rd Winchester). Ramseur's division was routed by a strong Union assault near Stephenson's Depot.
Ramseur managed to corral a few hundred soldiers out of his division and stood with Early's troops in the center of the line as Sheridan counterattacked at Cedar Creek. They held off the Union assault for an hour and a half. Ramseur displayed great bravery in rallying his troops, but he was mounted conspicuously on horseback and drew continuous fire. He was wounded in the arm and his horse was shot out from under him. A second horse of his was also killed. On his third horse, he was wounded again. He was struck through both lungs and fell, later to be captured by Union soldiers.
He died the following day near Meadow Mills, Virginia, at Sheridan's headquarters in the Belle Grove Mansion. His last words were, "Bear this message to my precious wife—I die a Christian and hope to meet her in heaven." The day before the battle, word reached Ramseur of the birth of a baby daughter. He is buried near his birthplace, Lincolnton, in St. Luke's Episcopal Cemetery.
Early's account of Ramseur at Cedar Creek sums up the man and his accomplishments: "Major-General Ramseur fell into the hands of the enemy mortally wounded, and in him not only my command, but the country suffered a heavy loss. He was a most gallant and energetic officer whom no disaster appalled, but his courage and energy seemed to gain new strength in the midst of confusion and disorder. He fell at his post fighting like a lion at bay, and his native State has reason to be proud of his memory."
Promotions:
1st Lieutenant- ??
Captain- ??
Major- ??
Lieutenant Colonel - May 27, 1861
Brigadier General - November 1, 1862
Major General - June 1, 1864
Major Commands:
Ramseur's Brigade/Rodes' Division
Ramseur's Division