Major General John C. Breckinridge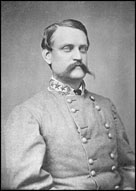 Breckinridge, John Cabell
January 15, 1821
Lexington, Kentucky
May 17, 1875
Lexington, Kentucky
Confederate
After graduating from Centre College, Breckinridge studied law at Transylvania University and fought in the Mexican War. Active in the Democratic party, he served in the legislature, U.S. Congress, and was Pres. James Buchanan's Vice-President. He ran for president against Abraham Lincoln and lost, but then served as a U.S. Senator.
On October 2, 1861, he fled Kentucky to escape arrest by the military government. He had been declared a traitor to the U.S. He joined the Confederacy and was appointed a Brigadier General on November 2nd. He commanded the Reserve Corps at the battles of Shiloh and Baton Rouge, and then went to help fortify Port Hudson. At Stones River, he commanded the II Division/Hardee's Corps and served under Gen. Joseph E. Johnston in the Vicksburg Campaign. He commanded the Breckenridge's Division/Hill's Corps at the battles of Chickamauga and Missionary Ridge. Breckinridge replaced Brigadier Gen. John H. Morgan as commander of the Department of Southwest Tennessee. He later commanded his division at the battles of Cold Harbor, Monocacy, Martinsburg, and the Washington Raid.
Pres. Jefferson Davis appointed Breckinridge to the position of Secretary of War on February 4, 1865. After Gen. Robert E. Lee surrendered at Appomattox, he continued to travel with the rest of the Confederate government cabinet and was Johnston's advisor during their surrender negotiations.
After the war, Breckinridge was exiled in Cuba, then traveled to Europe and Canada before returning to Kentucky. Once back, he started practicing law and worked on railroad developments.
Promotions:
Brigadier General - November ??, 1861
Major General - April ??, 1862
Major Commands:
Reserve Corps
1st Division/Hardee's Corps
Breckenridge's Division/Hill's Corps
Department of Southwest Tennessee
C.S.A. Secretary of War (February- April 1865)