Lieutenant General John B. Hood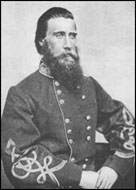 Hood, John Bell
June 1, 1831
Owingssville, Kentucky
August 30, 1879
New Orleans, Louisiana
Confederate
He grew up hearing popular stories about the Mexican War and tales told by his grandfather about Indian fighting. With help from his uncle, Congressman Richard French, young Hood was able to obtain an appointment to West Point. Although he was a poor student with disciplinary problems, he managed to graduate in 1853.
After graduation, he a was assigned to Fort Columbus, New York, then transferred to Fort Jones in northern California. In March of 1855, he was commissioned a 2d lieutenant in the 2d US Cavalry. Early in his military career, Hood began choosing aggressive military tactics over more passive ones. He also developed a boldness, often to the point of recklessness, which contributed to both his later successes and failures. John B. Hood who excelled as a brigade and division leader, was uncooperative as a corps commander, and was an unqualified disaster at the head of an army, which he all but destroyed. he became associated with Texas while with the 2nd Cavalry.
In April 16, 1861, Hood resigned from the US Army and joined the Confederates as a 1st lieutenant of cavalry.
Serving on recruitment duty in Kentucky for a few weeks, he was then transferred to Yorktown, Virginia. Hood quickly rose through the ranks, and was promoted to Brigadier General on March 6, 1862. Promoted to major general on October 10, 1862, he was given divisional command under Major Gen. James Longstreet. He commanded a division in the Department of Virginia and North Carolina from February 25 - April 1, 1863.
With an aggressive leadership style, he led his troops in several engagements, and acquired an excellent reputation among Confederates for courage and effectiveness. Hood was one of the most criticized Confederate generals. Hood was wounded in the left arm at Gettysburg, but was later able to lead several divisions at Chickamauga. He was wounded again, and doctors had to amputate his right leg, after which Hood spent some time recuperating in Richmond. Hood was promoted to lieutenant general on February 1, 1864. He commanded the II Corps, Army of Tennessee from February 28 - July 18, 1864. He was temporarily given command of the Army of Tennessee in July of 1864, but was reluctant to take over Gen. Joseph E. Johnston's position. When Confederate President Jefferson Davis insisted, Hood accepted. He received a temporary rank of general and was assigned to the Army of Tennessee and commanded the Department of Tennessee and Georgia from August 15, 1864 - January 25, 1865.
Hood had delusions of grandeur, thinking of a sure victory at Nashville, then invading the North. The battle of Nashville was a complete defeat for Hood and the army. Besieging the Union forces in Nashville, he attacked in mid-December 1864 and his army was annihilated.
In January of 1865, Hood was relieved, at his own request, and served in no further field command positions.
After the Civil War ended, Hood settled in New Orleans, and worked as a factor and commission merchant. Later, he entered the insurance business. He became moderately wealthy, but later lost much of his wealth when his business faired poorly. On August 30, 1879, a few days after the death of his wife and oldest child, Hood died of yellow fever. He was survived by 10 other children. Hood's friends arranged for his war memoirs to be published, and the proceeds were used to provide for Hood's orphaned children. The book, published in 1880, was entitled "Advance and Retreat," and it became a classic work of Civil War literature.
Promotions:
1st Lieutenant- April ??, 1861
Colonel - ??
Brigadier General- march 6, 1862
Major general- October 10, 1862
Lieutenant General - February 1, 1864
Major Commands:
Texas Brigade
Hood's Brigade/Whiting's Division
Hood's Brigade/Evans' Division
Hood's Division/Longstreet's Corps
Hood's Corps