The Battle of Port Republic
June 9, 1862 in Port Republic, Virginia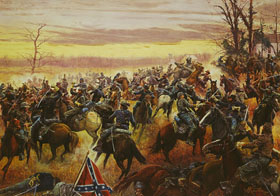 | | | | |
| --- | --- | --- | --- |
| Strength | Killed | Wounded | Missing/Captured |
| 3,500 | 67 | 393 | 558 |
| | | | |
| --- | --- | --- | --- |
| Strength | Killed | Wounded | Missing/Captured |
| 6,000 | 78 | 533 | 4 |
Conclusion: Confederate Victory
Jackson's Shenandoah Valley Campaign
The Battle Port Republic was a fierce contest between two equally determined foes and was the most costly battle fought by Maj. Gen. Thomas J. "Stonewall" Jackson's Army of the Valley during its campaign. His situation was that he was between two Union forces but by moving faster, he still had the advantage. He detached Maj. Gen. Richard S. Ewell to hold off Frémont while concentrating the bulk of his own men at Port Republic to attack Shields' advance guard.
Jackson concentrated his forces east of the South Fork of the Shenandoah against the two isolated brigades of Shields' division, with Tyler in charge of the detachment. The Confederates crossed downriver and advanced unopposed until they found the Union pickets.
Jackson's assaults across the bottomland were repulsed with heavy casualties, but a flanking column turned the Union left flank at the Coaling. Tyler had 2 weak brigades, but they fought hard indeed, and had very effective flanking artillery support. For a long while, the situation was in doubt, then downright dire. Tyler was holding strong and Jackson's own division, now under Winder, was making no headway. Jackson was moving reinforcements to clear away the Union guns, but needed time. Winder's men staved off one Union attack by charging first, but that only brought them where the guns could hit them harder. While suffering heavily under the artillery lash. the Stonewall Brigade could take it no longer and broke for the rear. But before Tyler could exploit the opening the reserves filled the line.
Then the flank attack hit the Union guns. Maj. Gen. Richard Taylor's Louisianans had to charge 3 times, and paid heavily, but they overran the key battery. Tyler tried to pivot and counterattack up the hill, but 3 things happened. Taylor turned the guns around and shelled the Union infantry; a second reserve brigade arrived; and Jackson ordered a charge. The tables had been turned. From having solid flanks and numerical parity, the Union troops were faced by 3 strong brigades of infantry, had open flanks, and were getting hammered by their own guns.
Union counterattacks failed to reestablish the line, and Tyler was forced to retreat. Tyler's men held their nerve long enough to get away. Jackson's cavalry rounded up about 500 stragglers, but didn't stand a chance of routing the whole column. Confederate forces at Cross Keys marched to join Jackson at Port Republic burning the North River Bridge behind them. Frémont's army arrived too late to assist Tyler and Carroll, and watched helplessly from across the rain-swollen river. All he could do was unlimber his artillery and open fire. What he was shooting at was ambulances retrieving Union wounded and Jackson ordered them recalled rather than risk any of his men. Before the day was over, Jackson marched away to Brown's Gap.
On June 10, Jackson was there in the morning, in a strong position against attacks from either Frémont or McDowell's whole force, and also near the rail line to Richmond. Because neither Union force advanced, as both were actually ordered to fall back, Jackson was now free to move east to Richmond and join Lee for the Seven Days' Battles.
After these dual defeats at Cross Keys and Port Republic, the Union armies retreated, leaving Jackson in control of the upper and middle Shenandoah Valley and freeing his army to reinforce Lee before Richmond.