Brigadier General Henry H. Sibley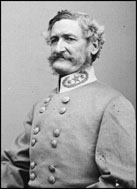 NAME
Sibley, Henry Hopkins
BORN
May 25, 1816
Natchitoches, Louisiana
DIED
August 22, 1886
Fredericksburg, Virginia
ARMY
Confederate
He graduated from West Point in 1838, ranked 31 out of 45 in his class. He was assigned to the 2nd U.S. Dragoons and was stationed in New Mexico Territory. He served on the frontier in Indian scouting, the Kansas border disturbances, the Seminole War, the Utah Expedition against the Mormons of Utah, and in the Mexican War. In 1856, he patented the Sibley tent, which
could comfortably accommodate 20 soldiers and their personal gear. On May 13, 1861, , he resigned his commission and joined the Confederacy.
Sibley was commissioned as a Colonel 3 days later and to Brigadier General on June 17th. He was sent to Texas to put together a brigade to clear (what is now) New Mexico and Arizona of the Union presence. He believed that his troops would be able to live off the land of New Mexico, and that the Union troops would not resist a Confederate invasion. He led the New Mexico Campaign. The purpose of the campaign was intended to control the Santa Fe Trail up to Colorado and from there gain access to the warm water ports of California.
While Sibley defeated Union forces at Valverde and Glorieta Pass , he was unable to withstand the Union counterattack. He and his 1,500 remaining troops withdrew to Fort Bliss, Texas, and went to San Antonio to escape. After this, Sibley was assigned to minor commands, and struggled with chronic illness and alcoholism. His performance in the Teche River Campaign of 1863 was poor. He was court-martialed and censured, but not convicted, after the Union failures at Irish Bend and Fort Bisland in April of 1863.
After the war, Sibley went overseas when the Confederacy surrendered. He became General of Artillery for the Khedive's army of Egypt. He returned to the U.S. in 1874, he lectured, but died in poverty. He is buried in the City Cemetery at Fredericksburg.
Promotions:
Major- May 16, 1861
Brigadier General - June 17, 1861
Major Commands:
Site Map
| Copyright © 2012
USwars.com
,