Major General Edward "Old Alleghany" Johnson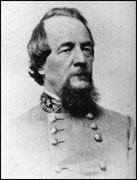 Johnson, Edward
April 16, 1816
Salisbury, Virginia
March 2, 1873
Richmond, Virginia
Confederate
At an early age, Johnson's family moved to Kentucky from Virginia. After attending Kenyon College and Grammar School in Gambier, Ohio, he was a Kentucky appointment to West Point, admitted on 1 July 1833. At West Point, Johnson's record was less than stellar. In 1835 he performed so poorly, 63rd of 73 academically (224th of 240 in conduct), that he was declared deficient and was subsequently turned back to repeat his third class or sophomore year. In repeating his third class, he improved somewhat academically. In conduct, though, he accumulated 200 demerits ranking him 211th of 216, his worst year. Eventually, his conduct and acedemics improved and he graduated in 1838, raked 32 out of 45 in his class.
After his graduation in 1838, Johnson was commissioned a 2nd lieutenant in the 6th Infantry. He then quickly advanced to 1st lieutenant in a little over a year. He served in the Seminole Wars, the western and southwestern frontier, and the Mexican War. He won two brevets, to captain and major, respectively. In recognition of his distinguished performance, the Commonwealth of Virginia voted him a sword, as did the citizens of his native county, Chesterfield. After 3 years sick leave, during which time he was promoted to captain, he was again assigned to duty on the western frontier, serving in Dakota and California and quelling the border disturbances in Kansas and on the Utah Expedition.
Johnson resigned his commission in June 10, 1861, and was commissioned as a Lieutenant Colonel on March 16, 1861. On July 2, 1861, he was assigned command of the 12th Georgia Infantry with the rank of full Colonel. He then commenced training the regiment into a fighting organization that, according to Army of Northern Virginia authority, Robert Krick , "went on to become one of the most renowned Georgia units in Gen. Robert E. Lee's army." Almost immediately, the 45 year old Johnson began to develop a reputation, as a diligent officer and oddly-charismatic character.
As Colonel of the 12th Georgia, in the Army of the Northwest, he participated in the fighting at Rich Mountain, Cheat Mountain, and Greenbrier River. On 13 December 1861, he won the rank of Brigadier General and attained his nom de guerre in his victory at Alleghany Mountain. In the winter of 1861-1862, Johnson and his small Northwestern Army cooperated with Major Gen. Thomas J. "Stonewall" Jackson in the early stages of Jackson's Shenandoah Valley Campaign. A severe ankle wound in the victory at McDowell ended his service with the Army of the Northwest and put him in Richmond for nearly one year. In the reorganization of the Army of Northern Virginia following Jackson's death, Johnson was promoted to major general and given command of the Stonewall Division in Gen. Richard S. Ewell's II Corps.
Johnson was healthy enough to take command of his division in late May 1863 and played an active role in the invasion of the north. On the way to Pennsylvania, his Division, along with Major Gen. Jubal A. Early's, routed the Union Gen. Robert H. Milroy's command at 2nd Winchester. The early evening arrival of his division at Gettysburg on July 1st was integral in Ewell's confusion on that day and was the subject of some controversy after the war. Johnson's command fought conspicuously on the Confederate left at Culp's Hill on both the second and the third days at Gettysburg.
In the fighting of the following winter, his division had a major role in Lee's Mine Run Campaign, arguably his best performance with the Army of Northern Virginia.
In the fighting at the Wilderness, when Gen. James Longstreet was seriously wounded, Johnson was actually considered by Lee as a candidate to temporarily replace Longstreet. A few days later, on May 12, 1864, at the "Bloody Angle" around the Spotsylvania Court House, Johnson, along with almost his entire Division, was captured during hand-to-hand combat in the trenches.
After his capture, he was incarcerated at Fort Delaware. He was later moved to Morris Island, South Carolina.
In the late summer of 1864 Johnson was exchanged and sent to Tennessee where he commanded a division in Major Gen. Stephen D. Lee's Corps in the Army of Tennessee. His participation in Gen. John B. Hood 's Spring Hill, Franklin, and Nashville fiasco was somewhat limited by his capture at Nashville on December 16, 1864. He was held at Johnson's Island, then moved to Old Capital Prison and, along with other Confederate officers, was accused of somehow conspiring in the President Abraham Lincoln's assignation. He was soon released as the accusations proved to be unfounded.
He was very highly regarded by men such as Lee , Jackson , and Ewell as well as the men who he led into battle and those he opposed there. After his capture at Spotsylvania, he ate breakfast with Gen. Ulysses S. Grant , another old friend. He was genial and friendly, and at the same time he was gruff, unpolished, and well-versed in army profanity. He was rarely referred to in a bad light; he never failed to do his duty and he proved to be one of the Confederacy's best division commanders.
After the war, Johnson returned to Chesterfield County, Virginia and took up farming. He was frequently in Richmond and active in Confederate veteran functions, including the early efforts toward construction of a Robert E. Lee monument in that city. He never married. When he died in Richmond, he was mourned throughout the city as flags flew at half-staff. His body lay in state at the capital until moved for burial at Hollywood Cemetery on March 4, 1873.
?
Promotions:
Lieutenant Colonel - June 10, 1861
Colonel - July 2, 1861
Brigadier General - December 13, 1861
Major General -
Major Commands:
Johnson's Division/II Corps
Johnson's Division/S.D. Lee's Corps