Major General Sterling Price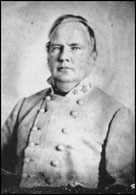 Price, Sterling
September 20, 1809 Prince Edward City, Virginia
September 29, 1867
St. Louis, Missouri
Confederate
When Price was 21 years old, he and his family moved to Missouri, where he became a slaveowner, major tobacco planter, and a politician. During the Mexican War, he served as the military governor of New Mexico, and was appointed a Brigadier General. After the war, he served in the Missouri legislature from 1836-38 and 1840-44. He then served in the Congress from 1844-46 and the Governor of Missouri from 1852-56.
Price then became Missouri's commander of the state troops. He at first opposed Missouri's secession, but in May 1861, he became outraged at the Union takeover of Camp Jackson, in St. Louis, by Francis P. Blair and Gen. Nathaniel Lyons. Price was so outraged by this, he decided to help the Confederacy as commander of Missouri troops.
In September, he joined up with Brigadier Gen. Ben McCullough and attacked the Union forces at Wilson's Creek, then proceeded to capture Lexington later on. He officially joined the Confederacy on March 6, 1862, and was commissioned as a major general.
He commanded the Army of the West at Iuka, Corinth, and Helena, Arkansas. He also helped to repulse Steele's Camden Expedition. He then commanded the Army of Missouri in the unsuccessful Price's Missouri Raid in 1864.
After the Confederacy was defeated, he left for Mexico and stayed there until 1867. He returned poor and in ill health, and died 8 months later.
Promotions:
Major General - March 6, 1862
Major Commands:
Commander of Missouri troops
Army of the West
Army of Missouri