General Robert E. Lee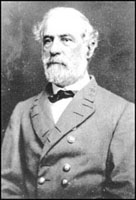 Lee, Robert Edward
January 19, 1807
Westmoreland Co, Virginia
October 12, 1870
Lexington, Virginia
Confederate
Lee was born at Stratford Hall Plantation, in Westmoreland County, Virginia, the fourth child of Henry Lee and Anne Hill (née Carter) Lee. Henry "Lighthorse Harry" Lee was a Revolutionary War, major-general, cavalry hero. Henry was injured in surpressing a riot in Baltimore and died from the wounds. He was raised by his widowed mother and attended private schools.
Lee went to West Point in 1825.
While there, he became corps adjutant, the chief post of honor for a cadet. He graduated in 1829, ranked 2 out of 46 in his class. When he graduated West Point, he had not only attained the top academic record but was the first cadet to graduate the Academy without a single demerit.
He was commisioned in the Engineers as a 2nd lieutenant and assigned to the Corps of Engineers. Lee served for 17 months at Fort Pulaski on Cockspur Island, Georgia.
In 1831, he was transferred to Fort Monroe, Virginia, as assistant engineer. While stationed there, he married Mary Anna Randolph Custis, the great-granddaughter of Martha Washington They were married at the Arlington House, her parents' home just across from Washington, D.C. They eventually had 7 children (3 boys and 4 girls): George Washington Custis, William H. Fitzhugh, Robert Edward, Mary, Annie, Agnes, and Mildred.
Lee served as an assistant in the chief engineer's office in Washington from 1834-37. He spent the summer of 1835 helping to lay out the state line between Ohio and Michigan. He was promoted to 1st Lieutenant in 1836. In 1837, as a first lieutenant of engineers, he supervised the engineering work for St. Louis harbor and for the upper Mississippi River and Missouri River. For his work there, he was promoted to captain. In 1841, he was transferred to Fort Hamilton in New York Harbor, where he took charge of building fortifications.
In the Mexican War, Lee was one of Gen. Winfield Scott's chief aides in the march from Veracruz to Mexico City. Lee received the brevets of major for the Battle of Cerro Gordo, lieutenant-Colonel for the Battle of Contreras-Churubusco and Colonel for the Battle of Chapultepec. He was instrumental in several American victories through his personal reconnaissance as a staff officer; he found routes of attack that the Mexicans had not defended because they thought the terrain was impassable.
After the war, Lee was employed in engineer work at Washington and Baltimore. He spent 3 years at Fort Carroll in Baltimore Harbor. During this time, he resided on the great Arlington estate, near Washington, which had come to him through his wife.
In 1852, Lee was appointed Superintendent of West Point, and during his 3 years there, he carried out many important changes in the academy. He improved the buildings, the courses, and spent a lot of time with the cadets.
From 1855-57, Lee was appointed as lieutenant-Colonel to the 2nd U.S. Cavalry in Texas. He commanded by Col. Albert S. Johnston, with whom he served against the Indians of the Texas border. There, he helped protect settlers from attacks by the Apache and the Comanche. In 1859, while at Arlington on leave, he was summoned to command the U.S. troops sent to deal with the John Brown Raid on Harper's Ferry. Lee was sent to arrest Brown and to restore order.
In March 1861, Lee was made Colonel of the 1st U.S. Cavalry. On April 18, 1861, President Abraham Lincoln offered him the field command of the entire Union armies. Lee was strongly averse to secession, but felt obliged to conform to the action of Virginia. Lee refused the offer and resigned his military commission. On April 23, Lee was at once made a major-general, and Commander-in-Chief, of the Virginian volunteer forces. On May 14, he became a brigadier-general in the regular Confederate Army.
On August 31, Lee was promoted to full-general and became special Military Adviser to President Jefferson Davis. He also oversaw the coastal defenses in South Carolina and Georgia. After Gen. Joseph E. Johnston was wounded at Seven Pines on June 1, 1862, Lee was assigned to the command of the Army of Northern Virginia, which for the next 3 years "carried the rebellion on its bayonets." This was Lee's first opportunity to lead an army in the field.
Lee's major battle commands included the Seven Days' Campaign, 2nd Manassas/Bull Run, Antietam, Fredericksburg, Chancellorsville, Gettysburg, Wilderness, Spotsylvania Court House, North Anna, Cold Harbor, the Siege of Petersburg, Five Forks, and Appomattox Station/ Appomattox Court House.
On January 31, 1865, Lee was promoted to be General -in-Chief of Confederate forces. In early 1865, he urged adoption of a scheme to allow slaves to join the Confederate army in exchange for their freedom. The scheme never came to fruition in the short time the Confederacy had left. He surrenderred his forces to Lieutenant Gen. Ulysses S. Grant at Appomattox on April 9. Lee resisted calls by some subordinates (and indirectly by Jefferson Davis) to reject surrender and allow small units to melt away into the mountains, setting up a lengthy guerrilla war.
After the war, Lee was almost tried as a traitor, but was only left with his civil rights suspended. Lee applied for, but was never granted, the official postwar amnesty. After filling out the application form, it was delivered to the desk of Secretary of State William H. Seward, who, assuming that the matter had been dealt with by someone else and that this was just a personal copy, filed it away until it was found decades later in his desk drawer. Lee took the lack of response to mean that the government wished to retain the right to prosecute him in the future.
Lee's example of applying for amnesty encouraged many other former members of the Confederacy's armed forces to accept restored U.S. citizenship. In 1975, President Gerald Ford granted a posthumous pardon and the U.S. Congress restored his citizenship, following the discovery of his oath of allegiance by an employee of the National Archives in 1970.
The Custis-Lee Mansion is today part of Arlington National Cemetery. After Lee's death, the courts ruled that the estate had been illegally seized, and that it should be returned to Lee's son. The government offered to buy the land outright, to which he agreed.
Lee declined many prestigious job offers and became the President of Washington College. While there, he created the nation's first departments of journalism and commerce. Over 5 years he transformed Washington College from a small, undistinguished school into one of the first American colleges to offer courses in business, journalism, and Spanish. He also imposed a sweeping and breathtakingly simple concept of honor — "We have but one rule, and it is that every student is a gentleman". After his death, the college changed its name to Washington & Lee University in honor of Lee.
Lee is considered by many as the greatest general in American history. One of the most aggressive and pugnacious generals in history, his military successes were due primarily to an ability to determine his enemy's strengths and dispositions, predict his movements, and to maintain the initiative. Friends and foes alike acknowledged the purity of Lee's motives, the virtues of his private life, his earnest Christianity and the unrepining loyalty with which he accepted the ruin of his party.
On the evening of September 28, 1870, Lee fell ill, unable to speak coherently. When his doctors were called, the most they could do was help put him to bed and hope for the best. It is almost certain that Lee had suffered a stroke. The stroke damaged the frontal lobes of the brain, which made speech impossible. He was force-fed to keep up his strength, but he developed aspiration pneumonia, a common side effect of improper force feeding. Lee died from the effects of pneumonia, two weeks after the stroke on the morning of October 12, 1870, in Lexington, Virginia, and was buried underneath Lee Chapel at Washington and Lee University, where his body remains today.
By his achievements Lee won a high place amongst the great generals of history. Lee's victories against superior Union forces in an ultimately losing cause won him enduring fame. Though hampered by lack of materials and by political necessities, his strategy was daring always, and he never hesitated to take the gravest risks.
Promotions:
Brigadier General - May, 14, 1861
General - August 31, 1861
Major Commands:
Commander in-Chief of forces of Virginia
Commander in-Chief of forces in West Virginia
Military Adviser to President Jefferson Davis
Army of Northern Virginia
General -in-Chief of the Armies of the Confederate States