Major General John B. Gordon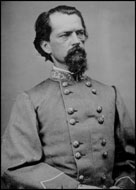 Gordon, John Brown
February 6, 1832
Upson City, Georgia
January 9, 1904
Miami, Florida
Confederate
Gordon attended the University of Georgia but dropped out to study law and become a member of the Atlanta Bar. Involved in the coal industry in his native Georgia, Gordon raised the Racoon Roughs, a volunteer company of mountaineers, for the Confederate cause and was commissioned as a captain.
Gordon was assigned to Company I, 6th Alabama on May of 1861. He was promoted to major and put in command of the 6th Alabama around May 14, and promoted less than a year later to Colonel.
Having fought at lst Bull Run, he was elected Colonel upon the regiment's reorganization and led it at Williamsburg. At Seven Pines, he distinguished himself when he assumed command of the brigade. He fought through the Seven Days, part of the time in brigade command. He led the regiment at Antietam where he was wounded in the head and lived to relate how a hole in his cap from a bullet earlier in the day saved him from drowning in his own blood, which had accumulated in it.
Recovering, he was given command of a Georgia brigade with which he fought at Chancellorsville and Gettysburg. At the latter, he aided a wounded Union Gen. Francis C. Barlow, whom he met, decades later, each thinking the other had died in the war. They were friends until Barlow's death. Gordon received the praise of Gen. Robert E. Lee for planning a successful attack on the Union right at the Wilderness, and 2 days later Lee juggled a number of commands so that Gordon could lead Early's Division.
At the battle of Spotsylvania, Gordon earned permanent promotion to major general and was soon given the remnants of Johnson's former division plus his own Georgia brigade. This unit he led at Cold Harbor and in the Shenandoah Valley Campaign during which he was sometimes in charge of an informal corps. He saw action at Monocacy, on the outskirts of Washington, at 3rd Winchester, Fisher's Hill, and Cedar Creek. Rejoining Lee in the trenches at Petersburg, he directed the corps and planned the attack on Fort Stedman. At Appomattox, his men made the last charge of the Army of Northern Virginia.
It is often claimed that he was a lieutenant general, but Gordon himself is silent on the matter in his "Reminiscences of the Civil War", in which he recounts each of his other promotions. He went on to a distinguished career in politics, serving as governor and senator and was active in veterans' affairs. After he died, he was buried in Oakland Cemetery, Atlanta.
Gordon became the first Commander-in-Chief of the United Confederate Veterans. He was a good fighting general and was involved in post-war disputes especially with Lieutenant Gen. James Longstreet. A civilian turned soldier, he became a trusted corps commander under Lee in the final days of the Confederacy.
Promotions:
Captain-
Major- May 14, 1861
Colonel - April 28, 1962
Brigadier General - November 1, 1862; not confirmed and reappointed May 7, 1863
Major General - May 14, 1864
Major Commands:
Rodes' Brigade, D. H. Hill's Division, Department of the Virginia (May 31-June and July 1862)
Lawton's (old) Brigade, Early's Division, II Corps, Army of Northern Virginia (April 11, 1863-May 8, 1864)
Early's Division, II Corps, Army of Northern Virginia (May 9- May 21, 1864)
Johnson's (old) Division, II Corps, Army of Northern Virginia (May 21-June 13, 1864)
Johnson's Division, Valley District, Department of Northern Virginia (June 13 - December 1864)
II Corps, Army of Northern Virginia (December 1864-April 9, 1865)