The Battle of Harper's Ferry
September 12-15, 1862 in Harper's Ferry, West Virginia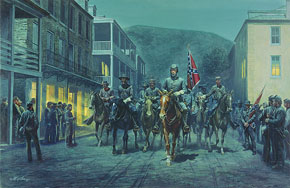 | | | | |
| --- | --- | --- | --- |
| Strength | Killed | Wounded | Missing/Captured |
| ~+mn~12,636 | 44 | 173 | 12,419 |
| | | | |
| --- | --- | --- | --- |
| Strength | Killed | Wounded | Missing/Captured |
| ~+mn~ ? | 39 | 247 | ? |
Conclusion: Confederate Victory
Lee's Maryland/Antietam Campaign
Harper's Ferry was earlier the site of the abolitionist John Brown's attack on the Federal arsenal there. It is a small town at the confluence of the Potomac River and the Shenandoah River. It was virtually indefensible, dominated on all sides by higher ground. Harpers Ferry is noteworthy for the role it played in preparing the South for its next major battle—the Battle of Antietam.
A key element in Gen. Robert E. Lee's plans for his Antietam Campaign called for the capture of a 12,000-man Union force threatening the Confederate rear from a position at Harpers Ferry. After Lee's army had advanced into Maryland, he learned that the Union garrison, led by Col. Dixon S. Miles, had not retreated. Lee planned to capture the garrison and the Federal arsenal, with its supplies of rifles and ammunition.
On September 9, Lee issued orders that dispatched columns there along 3 different routes.
By the evening of September 13, Maj. Gen. Lafayette McLaws' Confederates were on Maryland Heights opposite Harpers Ferry and Brig. Gen. John G. Walker's column was in position on Loudoun Heights east of the town. Maj. Gen. Thomas J. "Stonewall" Jackson, in overall command, sealed the trap with his third column, which had come in from the west via Martinsburg.
The Union garrison was in an untenable position on low ground, surrounded by strong Confederate forces on the hills overlooking the town. Brig. Gen. Julius White had retreated into Harpers Ferry from Martinsburg in the face of Jackson's advance. White left Col. Dixon S. Miles in command at Harpers Ferry, because Miles was more familiar with the situation there. Maj. Gen. George B. McClellan, the commander of the Union Army of the Potomac, in pursuit of Lee, had wanted to add the Harpers Ferry garrison to his field army, but General-in-Chief Henry W. Halleck had refused, saying that the movement would be too difficult and that Miles had to defend himself until McClellan could relieve him.
On September 14, during the night, Col. Benjamin F. "Grimes" Davis and Col. Amos Voss led their 1,200 cavalrymen out of Harpers Ferry, evading McLaws, and captured Maj. Gen. James Longstreet's ammunition train along the way. Miles made no effort to follow them with the rest of the garrison. He had not been informed of a relief force sent by McClellan under Maj. Gen. William B. Franklin, so presumably felt his position was hopeless. Besides, most of Miles' troops were new and inexperienced and could not fight their way successfully through Confederate lines.
On September 15, in the morning, with Confederate artillery in place on Loudoun and Maryland Heights, Jackson made ready to assault the Union lines around Harpers Ferry. The Confederates bombarded the garrison from all sides. The Union troops raised a white flag and Miles surrendered the garrison of more than 12,000. Miles was mortally wounded by a last salvo fired from a battery on Loudoun Heights. Jackson took possession of Harpers Ferry, then led most of his soldiers to join with Lee at Sharpsburg. After paroling the prisoners at Harpers Ferry, Maj. Gen. A.P. Hill's division arrived in time to save Lee's army from near-defeat at Sharpsburg.
The defeat gave the Confederates the war's largest capture of Union troops and freed up Confederate forces to provide much-needed backup for their counterparts at Antietam. They also captured 13,00 badly needed arms, 73 cannon, and innumerable smaller supplies and equipment. Two months later, the Union army returned to Harpers Ferry and fortified the surrounding heights. Harpers Ferry changed hands, from North to South, 8 times between 1861-65.
Books on The Battle of Harper's Ferry
and on Lee's Maryland/Antietam Campaign
available From Amazon.com