Lieutenant General A.P. Hill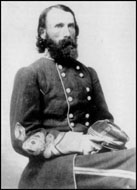 NAME
Hill, Ambrose Powell
BORN
November 9, 1825
Culpeper, Virginia
DIED
April 2, 1865
Petersburg, Virginia
ARMY
Confederate
Hill graduated from West Point in 1847, ranked 15 out of 38. He served garrison duty, frontier duty, the Seminole War, and in the Mexican War. He worked for the office of the superintendent of the Coast Survey. Hill began service in the 1st Artillery. His studies of the great masters of war gave him early reputation for accurate and extensive acquaintance with the art to which he had devoted his life.
On March 1, 1861, Hill resigned his 1st lieutenant commission from the US Army, and joined the Confederacy as a Colonel of the 13th Virginia Infantry. He was appointed a Brigadier General on February 26, 1862. After fighting at Williamsburg, he was given command of a Division, and promoted to major general on May 26, 1862.
Hill and his unit, known as "Hill's Light Division," also led attacks at the battles of Gaines' Mill and Glendale. He distinguished himself at the Seven Days Campaign. Joining Major Gen. Thomas J. "Stonewall" Jackson, Hill's troops developed a reputation for being one of the most effective fighting units.
After Jackson's death, Gen. Robert E. Lee reorganized the Confederate army, and promoted Hill to lieutenant general on May 24, 1863. He was placed in command of the III Corps, but served without distinction. He was responsible for the disaster at Bristoe Station.
After the battle of the Wilderness, he became ill and had to miss the fighting at Spotsylvania. Illness again, either real or imagined, caused him to miss fighting at Petersburg.
The day he returned from sick leave, Hill was killed at the battle of Petersburg while rallying his troops after their line had been broken. He was shot by 2 Union VI Corps soldiers. Hill's gallant escort and staff at once charged the Union lines and recovered his body. He died the same day, on April 2, 1865, and was buried in Richmond, Virginia.
Although a famous fighter early in the war, he did not perform well or live up to expectations after being given Corps command.

Interesting Facts: Both Jackson and Lee called for Hill and his division right before they died. Hill's wife was the sister of the famous Confederate raider, Brigadier Gen. John H. Morgan.
Promotions:
Major Commands:
a brigade in Longstreet's Division, Department of Northern Virginia: February 26 - May 27, 1862
Light Division in I Corps on June 29 and II Corps on July 27, 1862, Army of Northern Virginia: May 27, 1862 - May 2, 1863
II Corps, Army of Northern Virginia: May 2 and 6-30, 1863
newly-created III Corps, Army of Northern Virginia: May 30, 1863-May 7, 1864 and May 21, 1864-April 2, 1865
He led his corps through the Gettysburg, Wilderness, and Petersburg Campaigns.
Site Map
| Copyright © 2012
USwars.com
,