General E. Kirby Smith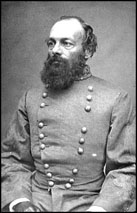 Smith, Edmund Kirby
May 16, 1824
St. Augustine, Florida
March 28, 1893
Sewanee, Tennessee
Confederate
Hill graduated West Point in 1845, ranked 25 out of 41 in his class, and was assigned to the Infantry. He served in the Mexican War, where he won 2 brevets, on frontier duty, and became an assistant professor teaching mathmatics at West Point. In 1855, he transferred to the 2nd Cavalry and served until his resignation his commission as a major on April 6, 1861.
Smith was commissioned as a Lieutenant Colonel in the cavalry in the Confederate army. On June 17, he was promoted to Brigadier General. At the 1st Bull Run, he was severely wounded.
He was promoted to major general on October 11 and given command of a division under Gen. P.G.T. Beauregard. In March of 1862, he went to Knoxville, Tennessee, to assume command of the Department of East Tennessee and participate in Kirby Smith's Invasion of Kentucky. He was promoted to lieutenant general on October 9, 1862, as a result of his success in the Kentucky invasion.
In January of 1863, he went to Richmond, Virginia, to aid in the reorganization of the army. In February, he was sent to the Trans-Mississippi Department. In the fall of the year, he almost resigned his commission to enter the ministry, but he decided to remain in the army.
Early in 1863, with the fall of the Mississippi River to the Union Forces, he was virtually cut off from Richmond. He was forced to deal himself with such matters as impressment of supplies, destruction of cotton to prevent capture, and blockade-running through Mexico, in addition to his normal military duties.
In the spring of 1864, he soundly defeated Gen. Nathanial P. Banks' Red River Campaign and then dispatched reinforcements northward to defeat Steele's cooperating column in Arkansas. With the pressure relieved, Smith attempted to send reinforcements east of the Mississippi but, as in the case of his earlier attempts to relieve Vicksburg, it proved impracticable due to Union naval control of the river. Instead he dispatched Major Gen. Sterling Price, with all available cavalry, on an unsuccessful invasion of Missouri. Thereafter, the war west of the river was principally one of small raids and guerrilla activity.
Smith surrendered his force ,the last Confederate force to surrender, at Gavelston, Texas on May 26, 1865 in the Smith-Canby Convention. Afterwards, he heard of Gen. Robert E. Lee's arrest, and decided to go to Mexico and then to Cuba. He came back to the U.S. in November of the same year.
Smith became the president of an insurance and telegraph company. After the company turned out to be unsuccessful, he then became president of the University of Nashville from 1870-1875. After this, he went to the University of the South at Sewanee, where he taught mathmatics for 18 years. he and his wife had 11 children. Smith was the last surviving full general of the Confederacy.
Promotions:
Lieutenant Colonel - April 1861
Brigadier General - June 17, 1861
Major General - October 11, 1861
Lieutenant General - October 9, 1862
General - February 19, 1864
Major Commands:
chief of staff, Army of the Shenandoah: spring-summer 1861
4th Brigade, Army of the Shenandoah: ca. June-July 20,1861
4th Brigade, 2nd Corps, Army of the Potomac: July 20-21, 1861
4th Division, Potomac District, Department of Northern Virginia: October 22, 1861-February 21, 1862
Department of East Tennessee: March 8-August 25, ca. October 31 - December 1862, and December 23, 1862 - January 1863
Army of Kentucky, Department #2: August 25 - November 20, 1862
corps, Army of Tennessee: November 20-December 1862
Southwestern Army: January 14-March 7, 1863
Trans-Mississippi Department: March 7, 1863-April 19, 1865 and April 22-May 26, 1865