Major General D.H. Hill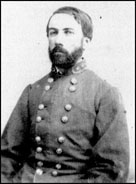 Hill, Daniel Harvey
July 12, 1821
York District, SC
September 24, 1889
Charlotte, North Carolina
Confederate
Hill was born at Hill's Iron Works, of Scotch-Irish lineage. His grandfather, a native of Ireland, built an iron foundry in York District where cannon were cast for the Continental Army until it was destroyed by the British. This ancestor also fought gallantly as a Colonel in Sumter's command.
Hill was graduated at West Point in 1842. He was assigned to the Artillery and sent to the Maine frontier. During the Mexican War, he participated in nearly every important engagement, and attracted notice by his conspicuous courage. He soon rose to the rank of 1st lieutenant, won the brevet of captain and major.
He served at Fortress Monroe in 1848, and on February 28, 1849, resigned from the army to accept the professorship of mathematics at Washington college, Virginia. In 1852, he was married, and in 1854, he became a professor in Davidson College, North Carolina. In 1859, impressed with the duty of preparing the South for defense, he accepted the position of commandant and manager of the North Carolina Military Institute. During this period, he was the author of several educational and theological works. After instructing the North Carolina Volunteers, he was permitted to select 12 of the best companies as the 1st Regiment and commissioned as a Colonel on May 11, 1861.
Hill was assigned to command in the defenses of Yorktown. He played a leading role in the victory at Big Bethel. Promoted to Brigadier General and assigned to the command of the North Carolina coast. He served for a time in northern Virginia and then returned to the Peninsula as a division leader with the rank of major general. He saw action at Yorktown, Williamsburg, Seven Pines, and during the Seven Days Campaign.
Hill was left in southeastern Virginia during the 2nd Bull Run Campaign, he rejoined Gen. Robert E. Lee's army for the Maryland Campaign, performing well at both South Mountain and Antietam. His last battle with the Army of Northern Virginia came at Fredericksburg. He then returned to command the Department of North Carolina until named a lieutenant general and ordered to Bragg's army, where he was put in command of the divisions of Gens. Cleburne and Breckinridge. He took over Lieutenant Gen. William J. Hardee's old corps, leading it at Chickamauga. At Chickamauga, he was permitted just before night to take charge of the forward movement of 3 lines, which swept over the breastworks of Thomas and caught 5,000 prisoners.
Disgusted with Gen. Braxton Bragg's failure to reap the benefits of the victory, he made his view known to the president, who still supported his friend. Hill was relieved of command. Davis refused to submit his nomination as lieutenant general to the Senate. Thus he reverted to a major generalcy on October 15, 1863. He volunteered to be on the staff of Gen. P.G.T. Beauregard. While with Beauregard staff, he fought at Drewry's Bluff and Petersburg.
He was in command of a provisional division for a couple of days. On the urgent request of Gen. Joseph E. Johnston and Beauregard, he was assigned to duty at Charleston, and to the command of a remnant of the Army of Tennessee in its retreat before Major Gen. Philip Sheridan, until Bentonville, where he led his division in its last charge.
For some years after the war, he edited a magazine at Charlotte which was devoted to Southern development and called "The Land We Love." In 1877-80, he was president of the Arkansas Industrial university, and subsequently president of the military and agricultural college of Georgia.
He was brave but abrasive, and could have been used much more effectively for the Confederate cause.
Promotions:
Colonel - May 11, 1861
Brigadier General - July 10, 1861
Major General - March 26, 1862
Lieutenant General (never confirmed)- July 11- October 15, 1863 then back to Major General
Major Commands:
Department of the Peninsula (May 31 - June 1861)
Department of Fredericksburg (July 17 - July 1861)
District of the Pamlico, Department of North Carolina (ca. October 4 - November 16, 1861)
lst Brigade, 3rd (Longstreet's) Division, Potomac District, Department of Northern Virginia (November 16, 1861 - January 1862)
Forces at Leesburg, Potomac District, Department of Northern Virginia (January - March 1862)
4th Division, Department of Northern Virginia (March - July 17, 1862)
Department of North Carolina (July 17 - August 1862 and April 1 - July 1, 1863)
Division, Jackson's Corps, Army of Northern Virginia (August 1862 - April 1, 1863)
temporarily commanding Valley District, Army of Northern Virginia (September 6, 1862)
II Corps, Army of Tennessee (July 24 - November 8, 1863)
volunteer aide-de-camp, Department of North Carolina and Southern Virginia (May 5-18 and May 21-ca. June 1864)
Division, Department of North Carolina and Southern Virginia (May 18-2 1, 1864)
District of Georgia, Department of South Carolina, Georgia and Florida (January 21- March 1865)
Division, Lee's Corps, Army of Tennessee (ca. March and late March-April 26, 1865)
Lee's Corps (late March 1865)