Lieutenant General
Alexander P. "Old Straight" Stewart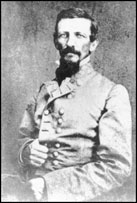 Stewart, Alexander Peter
October 2, 1821
Rogersville, Tennessee
August 30, 1908
Biloxi, Mississippi
Confederate
Known among his men as "Old Straight," Stewart graduated from West Point in 1842, ranked 12 out of 56 in his class. He served in garrison duty and taught mathmatics at West Point. Three years later, he resigned his commission to become an educator. From that time until the beginning of the Civil War, he taught mathematics and natural and experimental philosophy at Cumberland University at Lebanon and at the University of Nashville.
Initially, Stewart opposed secession, but when Tennessee seceded he offered his services to the state and the South. His first months in Confederate service were devoted to organizing camps to instruct new recruits. After commanding the heavy artillery and water batteries at Columbus, Kentucky and Belmont, Missouri, he was appointed Brigadier General on November 8, 1861. He was promoted to a major in the Artillery Corps of Tennessee. Later, he was assigned a brigade command under Major Gen. Leonidas Polk, the "fighting bishop."
He succeeded to the command of the corps following Polk's death. Stewart was wounded at Ezra Church. He led his corps until the end of the war. He surrendered and was paroled with Gen. Joseph E. Johnston's army at Greensboro, North Carolina, in May 1865.
Stewart fought in all the major battles of the Army of Tennessee--Shiloh, Perryville, Stones River, Chickamauga, Chattanooga, the Atlanta Campaign, Franklin, Nashville, and the Carolina Campaign. Stewart's brigade performed quite well on December 31, 1862, at Stones River, aiding in pushing Gen. James S. Negley's division out of the cedar glade and capturing 12 artillery pieces. At Chickamauga, Stewart's division was part of Lieutenant Gen. James Longstreet's command that broke through the Union army commanded by Gen. William S. Rosecrans and put it to rout. Stewart's corps performed valiantly at Atlanta but to no avail. In the disastrous battle of Nashville, Stewart's corps was on the extreme left of the Confederate line. Stewart's men stood up under overwhelming odds but finally retreated with the rest of Lieutenant Gen. John Bell Hood's command.
After the war, Stewart resumed his professorship at Cumberland University. He engaged in the insurance business in St. Louis from 1870 to 1874 before becoming chancellor of the University of Mississippi from 1874 to 1888. After resigning his chancellorship, he was appointed Park Commissioner of the Chickamauga and Chattanooga National Military Parks. He served in this capacity until his death. Stewart is buried in St. Louis, Missouri.
Promotions:
Major- ?? ??, 1861
Brigadier General - November 8, 1861
Major General - June 5, 1863
Lieutenant General - June 23, 1864
Major Commands:
Artillery Corps of Tennessee
2nd Brigade/1st Division/Polk's Corps
Stewart's Division/Buckner's Corps
Polk's Corps