Major General John S. Marmaduke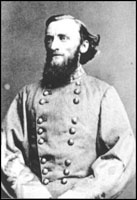 Marmaduke, John Sappington
March 14, 1833
near Arrow Rock, Missouri
December 28, 1887
Jefferson City, Missouri
Confederate
The second son among 10 children, John S. Marmaduke was born on his father's farm. His father, Meredith Miles Marmaduke (1791–1864) was the eighth Governor of Missouri. His great-grandfather, John Breathitt, had served as the Governor of Kentucky from 1832–34, dying in office.
Marmaduke attended Chapel Hill Academy in Lafayette County, Missouri before attending Yale University for 2 years and then Harvard University for
another year before going to West Point. He graduated in 1857, ranked 30 out of 38 in his class. He was assigned in the infantry. He went on the Utah Expedition and served on the frontier. When the seccession crisis occured, his father, Governor of Missouri, favored him remaining in the Union, but counseled John to go his own way. He resigned his commission on April 17, 1861 to join the Confederacy.
Marmaduke's father's brother-in-law, Governor Claiborne F. Jackson, appointed him as Colonel of the 1st Regiment of Rifles in the Missouri State Guard. When Gen. Sterling Price and Jackson left Jefferson City in June to muster secessionist volunteers, Marmaduke's Saline County company joined them at Boonville. Price left Marmaduke in charge of 1,800 militia, who were attacked and routed by Gen. Nathaniel Lyon's 1,900 Union soldiers at Boonville After the battle, he was promoted to 1st lieutenant in the regular Confederate army, and then to Lieutenant Colonel in the 1st Arkansas Battalion. There, he served on the staff of Lieutenant Gen. William J. Hardee before joining Gen. Albert S. Johnston, in a staff role. Afterwards, he was promoted to Colonel of 3rd Missouri Infantry. He led his regiment at Shiloh, where he was wounded. He also fought at Prairie Grove. In April 1863, he departed Arkansas with 5,000 men and 10 pieces of artillery and invaded Missouri before being repulsed at Cape Girardeau.
While serving under Price's command near Helena, Arkansas, in September, Marmaduke accused his immediate superior officer, Gen. Lucius M. "Marsh" Walker, of imperiling Marmaduke's men by being absent from the field in the face of the enemy. Walker, believing that he had been accused of cowardice, challenged Marmaduke to a duel. At dawn on September 6, the 2 generals faced each other with revolvers. Both men fired and missed. Marmaduke recocked and fired again, mortally wounding Walker. As he lay on the ground dying, Walker forgave Marmaduke.
Marmaduke commanded a cavalry division in Department of Trans-Mississippi and fought in the Red River Campaign. He led the cavalry in Price's Missouri Raid. On the raid, he had 2 horses shot out from under him at Little Blue, and was wounded and captured at (Mine Creek or Marais des Cygnes) during the retreat from Westport. While still a prisoner, he became the last-appointed major general in the Confederate army.
He was released from the Union prison, Fort Warren, Massachusetts in July 1865. He went to St. Louis and was in the commission and insurance business, where he quit as he disagreed with the firm's ethics. He then edited an agricultural journal, and accused the railroads of discriminatory pricing against local farmers. In 1875, Marmaduke was appointed to Missouri's first Rail Commission.
In 1880, he lost the Democratic nomination for governor to former Union officer Thomas T. Crittenden. In 1884, he was elected Governor of Missouri, partly because of Crittenden's mishandling of the murder of the former outlaw Jesse James and due to rising public desire for railroad regulation and reform. Marmaduke pushed an agenda for a "new Missouri" where former Unionists and Confederates worked together. His efforts ended potentially crippling railroad strikes in 1885 and 1886, and in 1887 was successful in passing laws regulating the railroads.
Marmaduke never married, and his 2 nieces served as hostesses at the Governor's Mansion. He became the first ex-Confederate to hold a state political office in the state of Missouri. Like his great-grandfather, he died while in office, passing away from pneumonia. He is buried in the City Cemetery.
Promotions:
1st Lieutenant-
Lieutenant Colonel -
Brigadier General - November 15, 1862
Major General - March 18, 1865
Major Commands: