Lieutenant Colonel John C. Pemberton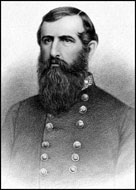 Pemberton, John Clifford
August 10, 1814
Philadelphia Pennsylvania
July 13, 1881
Penllyn, Pennsylvania
Confederate
Born August 10, 1814, in Philadelphia, Pennsylvania, John Clifford Pemberton's marriage to a Virginia woman influenced him to fight for the South. By wars end, he had become one of the Confederacy's most controversial generals. He started West Point in 1833 and graduated in 1837. He finished 27th out of 50 in his class. He was commissioned in the Artillery.
Pemberton saw action in the Second Seminole War, was decorated for bravery in the Mexican War, on the frontier in Indian fighting, and in the Utah Expedition.
In peacetime, he proved to be an effective administrative officer. Though his defenders would later claim that he frequently exhibited antebellum pro-Southern sentiments, there is much evidence to the contrary. When war broke out in April 1861, he agonized for weeks before coming to Virginia to fight for the Confederacy. He was commissioned as a Lieutenant Colonel on April 28, 1861. His first order was to organize the cavalry and artillery in Virginia. On May 8, he was promoted to Colonel and put in command of the Provincial Army of Virginia.
His first significant duty came in March 1862, when he was promoted to major general and took command of the Department of South Carolina and Georgia. Always adept at military politics, he had moved rapidly upward in rank despite a lack of accomplishments.
He soon was embroiled in controversy. Many South Carolinians feared that the Northern-born general was not dedicated to an all-out defense of the department. He added to their fears by declaring that, if he had to make a choice, he would abandon the area rather than risk losing his outnumbered army. When state officials complained to Gen. Robert E. Lee, Lee told Pemberton that he must defend the department at all cost. He was eventually relieved from command, but had learned a fateful lesson from Lee.
Davis promoted him to lieutenant general on October 13, 1862, and gave him arguably the most difficult command in the Confederacy. He was to defend Vicksburg, Mississippi. Its defenses were the last major river obstacle to Union shipping.
Taking command of the Department of Mississippi and East Louisiana on October 14, he immediately set to work solving supply problems and improving troop morale. For several months, he enjoyed remarkable success, defeating attempts by Major Gen. Ulysses S. Grant to take Vicksburg in the winter of 1862-1863.
Davis complicated matters by sending Gen. Joseph E. Johnston to Mississippi to try to reverse declining Confederate fortunes. Davis and Johnston were giving Pemberton conflicting orders. Trying to follow both plans, he was finally unable to follow either.
He retreated into the city where he and his men endured a 47-day siege. On July 4, 1863, he surrendered Vicksburg and 29,000 Confederate soldiers to Grant. Pemberton became a pariah in the South and was accused by Johnston of causing the Confederate disaster by disobeying orders.
A few months after Vicksburg, Pemberton displayed his loyalty to the Confederate cause by requesting a reduction in rank. He served the remainder of the war as a Lieutenant Colonel of artillery in Virginia and South Carolina.
After the war he settled on a farm near Warrenton, Virginia, and became a farmer. He eventually returned to his native Pennsylvania, where he died July 13, 1881, in the village of Penllyn. He is buried in Laurel Hill Cemetery in Philadelphia.
Although loyal to the South, he was vilified for losing Vicksburg.
Promotions:
Lieutenant Colonel - April 28, 1861
Colonel - May 8, 1861 and May 18, 1864
Major General - March ??, 1862
Lieutenant General - October 13, 1862
Major Commands:
Department of South Carolina Georgia and Florida
Department of Mississippi and East Louisiana
Colonel of Artillery