Major General William W. "Old Blizzards" Loring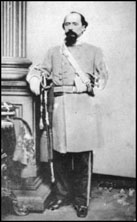 Loring, William Wing
December 4, 1818
Wilmington, North Carolina
December 30, 1886
New York City, New York
Confederate
Loring was raised in Florida and served as a 2nd lieutenant of state volunteers in the Seminole War. He left the military and graduated from Georgetown College and became a lawyer. He then became a state legislator before being commissioned directly into the regular army for the Mexican War. As a captain of the Mounted Riflemen, he won two brevets, being wounded at both Churubusco and Chapultepec, losing an arm. He commanded the Department of Oregan from 1849-51, served on the frontier in Indian fighting, went on to the Utah expedition, and spent a year in Europe studying foriegn armies before taking command of the Department of New Mexico from 1860-61. On May 13, 1861, he resigned his commission and was commissioned as a Brigadier General in the Confederate army.
While serving under Gen. Robert E. Lee in the first summer of the war, he took part in the disappointments of the campaign in western Virginia, fighting at Cheat Mountain. That winter his command was placed under the overall command of Major Gen. Thomas J. "Stonewall" Jackson. Following the Romney Campaign, Loring opposed the stationing of his men in the exposed town during the bitter winter and obtained orders from Secretary of War Judah P. Benjamin to move to Winchester. Outraged, Jackson threatened to resign and was eventually upheld in his views of military etiquette. On February 9, 1862, Loring was removed from his post but a few days later was appeased with promotion to major general. After departmental command in Southwestem Virginia, he was named to command a division in Mississippi.
Frequently in conflict with department commander Lieutenant Col . John C. Pemberton, he fought in the Vicksburg Campaign until cut off from the rest of Pemberton's force at Champion Hill. The 2 generals blamed each other for the defeat there. Loring then joined the forces under Gen. Joseph E. Johnston and took part in the defense of Jackson and the Meridian Campaign. By now he was known to his men as "Old Blizzards" because of his battle cry "Give them blizzards, boys!" Transferred to Georgia, he fought in the Atlanta Campaign.
When Lieutenant Gen. Leonidas Polk was killed at Pine Mountain, Loring briefly took charge of the corps but was succeeded the same day by Lieutenant Gen.Alexander P. Stewart. He served in the Atlanta Campaign and the Carolina Campaign. Returning to divisional command, he was wounded at Ezra Church and was out of action until after the fall of Atlanta. He was Gen. John B. Hood's second-in-command at Franklin and Nashville.
After the war, Loring was a New York banker before going to Egypt. He served the Khedive of Egypt as a Brigadier General and a division commander from 1869-79. In command of the defenses of Alexandria and the entire Egyptian coast, he commanded a division in the Abyssinian campaign. He was decorated and made a "pasha." Upon his return to the United States, he was called "Pasha Loring." He wrote many magazine and newespaper articles and a book on his war experiences.
Loring was one of the more troublesome of Confederate generals, frequently engaging in disputes with his superiors.
Promotions:
Brigadier General - May 20, 1861
Major General - February 17, 1862
Major Commands:
Army of the Northwest (July 20-August 3, 1861 and October 1861-February 9, 1862)
brigade, Army of the Northwest (August 3-October 1861)
Department of Southwestern Virginia (May 8-October 16, 1862)
Division, 2nd Military District, Department of Mississippi and East Louisiana (ca. January-April 1863)
Division, Department of Mississippi and East Louisiana (April-May 16, 1863)
Division, Department of the West (May 16-July 1863)
Division, Department of Mississippi and East Louisiana (July 1863-January 28, 1864)
Division, Department of Alabama, Mississippi and East Louisiana (January 28-May 4, 1864)
Division, Polk's (Army of Mississippi)-Stewart's Corps, Army of Tennessee (May 4-June 14, June 14-July 28, 1864, September 1864-ca. March 1865, and April 9-26, 1865)
temporarily commanded Stewart's Corps (Uune 14, 1864)