The Battle of Murfreesboro/Stones River
December 31-January 2, 1862 in Murfreesboro, Tennessee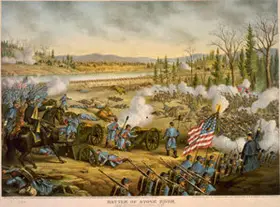 | | | | |
| --- | --- | --- | --- |
| Strength | Killed | Wounded | Missing/Captured |
| 43,400 | 1,730 | 7,802 | 3,717 |
| | | | |
| --- | --- | --- | --- |
| Strength | Killed | Wounded | Missing/Captured |
| 37,712 | 1,294 | 7,945 | 1,027 |
Conclusion: Union Victory
Murfreesboro Campaign
Of the major battles of the Civil War, the Battle of Stones River had the highest percentage of casualties on both sides. Although the battle itself was tactically indecisive, the Union army's repulse of two Confederate attacks was a much-needed boost to U.S. morale after the defeat at the Battle of Fredericksburg and it dashed Confederate aspirations for control of Middle Tennessee.
After Confederate General Braxton Bragg's Army of Mississippi was defeated at the Battle of Perryville on October 8, he retreated to Harrisburg, Kentucky, where he was joined by Maj. Gen. Kirby Smith's army of 10,000 on October 10. Although Bragg now had a strong force of 38,000 veteran troops, he made no effort to regain the initiative. The Union victor at Perryville, Maj. Gen. Don C. Buell, was equally passive and refused to attack Bragg.
Bragg, frustrated, withdrew through the Cumberland Gap, passed through Knoxville and Chattanooga, turned northwest, and eventually stopped in Murfreesboro. His army, joined with Smith's Army of Kentucky and together renamed the Army of Tennessee as of November 20, took up a defensive position northwest of the city along the West Fork of the Stones River.
On December 16, during a visit by President Jefferson Davis, Bragg was ordered to send the infantry division of Maj. Gen. Carter L. Stevenson to Mississippi to assist in the defense of Vicksburg. The loss of Stevenson's 7,500 men would be sorely felt in the coming battle. At this point, Bragg reorganized his army and Maj. Gen. E. Kirby Smith left for East Tennessee. Bragg commanded two corps, under Maj. Gen. William J. Hardee and Maj. Gen. Leonidas Polk, and a cavalry command under Brig. Gen. Joseph Wheeler. Considerable cavalry manpower and expertise were diluted from the young Wheeler's command when both Maj. Gen. Nathan B. Forrest and Col. John H. Morgan were detached for strategic raids outside Middle Tennessee. Bragg had another serious disadvantage to deal with—a virtual revolt of his senior generals, who petitioned Jefferson Davis to relieve him. Davis refused to relieve either Bragg or the rebellious generals.
On the Union side, President Abraham Lincoln had become frustrated with Buell's passivity and replaced him with Maj. Gen. William S. Rosecrans. Rosecrans moved his XIV Corps to Nashville, and was warned by Washington, D.C. that he would be replaced if he did not move aggressively against Bragg and occupy eastern Tennessee. Rosecrans would not be hurried and took ample time to reorganize and train his forces, particularly his cavalry, and resupply his army. He did not begin his march in pursuit of Bragg until December 26.
While Rosecrans was preparing in Nashville, Bragg ordered Morgan to move north with his cavalry and operate along Rosecrans's lines of communications, to prevent him from foraging for supplies north of Nashville.
On December 26, The Army of the Cumberland marched southeast in 3 columns, or "wings", towards Murfreesboro and they were harassed by Wheeler's Confederate cavalry along the way, delaying their movements. The left wing, under Maj. Gen. Thomas L. Crittenden, took a route that was parallel to the Nashville & Chattanooga Railroad, passing through La Vergne and south of Smyrna. The center wing, under Maj. Gen. Alexander McD. McCook, marched south along the Nolensville Turnpike to Nolensville, south to Triune, and then eastward to Murfreesboro. The right wing, under Maj. Gen. George H. Thomas, moved south along the Wilson Turnpike and the Franklin Turnpike, parallel to the Nashville & Decatur Railroad, then eastward through Nolensville and along the same route used by Crittenden south of the Nashville and Chattanooga. The separation of the wings was designed to launch a turning movement against Hardee at Triune. When the Union march began, Bragg moved Hardee back to Murfreesboro, avoiding a confrontation.
On December 29, by the time Rosecrans had arrived in Murfreesboro that evening, the Army of Tennessee had been encamped in the area for a month. By nightfall, 2/3 of Rosecrans's army was in position along the Nashville Turnpike, and by the next day, Rosecrans's army numbered about 45,000 and Bragg's 38,000. Bragg had the advantage of the detached cavalry commands under Forrest and Morgan, who raided deeply behind Union lines while Wheeler's cavalry slowed the Union forces with hit-and-run skirmishes. Part of Rosecrans's reluctance to move from Nashville was the inexperience of his cavalry forces. Wheeler and 2,500 of his men rode completely around the Union army, destroying supply wagons and capturing reserve ammunition in Rosecrans's trains.
On December 30, the Union force moved into line 2 miles northwest of Murfreesboro. The two armies were in parallel lines, about 4 miles long, oriented from southwest to northeast. Both commanders devised similar plans for the following day: envelop the enemy's right, get into his rear, and cut him off from his base. Since both plans were the same, the victory would probably go to the side that was able to attack first. Rosecrans ordered his men to be ready to attack after breakfast, but Bragg ordered an attack at dawn.
Bragg's forces were situated with Polk's corps on the west side of the river and Hardee on the east. Bragg expected Rosecrans to attack this day, but when that attack did not come, his plan was to drive Hardee's corps and the cavalry deep into the Union rear. He began moving the bulk of Hardee's corps across the river to his left flank in preparation for the next morning's attack. This left Breckenridge's division in reserve on the east side of the river on the high ground.
Rosecrans planned to have Crittenden cross the river and attack the heights east of the river, which would be an excellent artillery platform from which to bombard the entire Confederate line. Crittenden, facing Breckenridge on the Union left, failed to notify McCook, on the Union right, of these troop movements. McCook, anticipating that the next day would start with a major attack by Crittenden, planted numerous campfires in his area, hoping to deceive the Confederates as to his strength on that flank, and to disguise the fact that his flank was not anchored on an obstacle, the nearby Overall Creek. Thomas, in the center, was ordered to make a limited attack and act as the pivot for Crittenden's wheel. The armies bivouacked only 700 yards from each other.
On December 31, about 6:00 A.M., Maj. Gen. William J. Hardee struck first, attacking the Union's right flank with the division of Maj. Gen. John P. McCown, before many in Brig. Gen. Richard W. Johnson's division had finished their breakfast. The 10,000 Confederates who massed on their left attacked like a "tidal wave". Due to McCook's deceptive campfires and the relative inexperience of McCown, his division drifted away to the left during his assault, leaving a gap in the front, but it was filled seamlessly by the division coming up from his rear, under Maj. Gen. Patrick R. Cleburne. These 2 divisions swept all resistance aside.
Although meeting stiff and spirited resistance, Hardee drove the Union troops back 3 miles to the railroad and the Nashville Pike by 10:00 A.M., where Johnson was able to rally them. Rosecrans canceled Crittenden's attack on the Confederate right, which had begun with Brig. Gen. Horatio P. Van Cleve's division crossing the river at 7:00 A.M., and instead rushed reinforcements to his own right flank. He had been slow to recognize the threat, assuming incorrectly that McCook would be capable of turning back Hardee's assault.
The second Confederate wave was Gen. Leonidas Polk corps, the divisions of Maj. Gen. John M. Withers and Maj. Gen. Benjamin F. Cheatham. Maj. Gen. Philip Sheridan saved the Union from total destruction that morning when he anticipated an early attack and had the troops of his division up and ready in the center of the right half of the line by 4:00 A.M. Withers hit Sheridan's right flank first, but was repulsed in 3 separate charges. Cheatham hit Sheridan's front as Cleburne struck his flank. Cheatham's assault was sluggish and piecemeal.
While Sheridan's men slowed the Confederate advance, they did it at heavy cost to themselves; all 3 of Sheridan's brigade commanders were killed that day and more than 1/3 of his men were casualties in 4 hours of fighting in a cedar forest surrounded on 3 sides that became known as "The Slaughter Pen". By 10:00 A.M., many of the Confederate objectives had been achieved. They had captured 28 guns and over 3,000 Union soldiers.
Breckenridge, on the east side of the river, did not realize that Crittenden's early morning attack had been withdrawn. He refused to send 2 brigades as reinforcements across the river to aid the main attack on the left. When Bragg ordered him to attack to his front, Breckenridge moved forward and found out that there was not any Union troops opposing him. At about this time, Bragg received a false report that a strong Union force was moving south along the Lebanon Turnpike in his direction. He canceled his orders that Breckenridge send reinforcements across the river, which diluted the effectiveness of the main attack.
By 11:00 A.M., Sheridan's ammunition ran low and his division pulled back, opening a gap that Hardee exploited. The Union troops regrouped and held the Nashville Pike, supported by reinforcements and massed artillery. Repeated attacks on the left flank of the Union line were repulsed by Col. William B. Hazen's brigade in a rocky, 4-acre wooded area named "Round Forest," it would become known as "Hell's Half-Acre"; Hazen's brigade was the only part of the original Union line to hold. The line was stabilized. The new line was roughly perpendicular to the original line, in a small half oval with its back to the river.
Bragg now planned to attack the Union left, a portion of the oval line facing southeast, manned by Hazen's brigade. The only troops available for such an assault were Breckenridge's and Bragg ordered him to cross the river, but Breckenridge moved slowly. By 4:00 P.M., Breckenridge's first two brigades assaulted Hazen in piecemeal attacks and suffered heavy repulses. Two more brigades arrived and they were sent in, reinforced by other elements of Polk's corps. The attack failed a second time. Thomas responded with a limited counterattack that cleared his front. By 4:30 P.M., the battlefield was quiet except for the cries of the wounded.
Bragg's plan had had a fundamental flaw: although his objective was to cut Rosecrans's line of communication (the Nashville Pike), his attack drove the Union defenders to concentrate at that point.
That night, Rosecrans held a council of war to decide what to do. Some of his generals felt that the Union army had been defeated and recommended a retreat before they were entirely cut off. Rosecrans opposed this view and was supported by Thomas and Crittenden. The decision was made to stand and fight and as their line was reinforced.
On the Confederate side, Bragg was certain that he had won a victory. He was convinced that the large number of captured Union soldiers meant that Rosecrans had lost considerably more. The Confederate army began digging in, facing the Union line.
On January 1, 1863, at 3:00 A.M., Rosecrans revived his original plan and ordered Van Cleve's division to cross the river and occupy the heights there, protecting 2 river crossing sites and providing a good platform for artillery. The day was relatively quiet as both armies was resting and tending to their wounded. Polk launched two probes of the Union line, one against Thomas, the other against Sheridan, to no effect.
In the rear, Wheeler's cavalry continued to harass the Union line of communication on the turnpike back to Nashville. Convoys of wounded had to travel under heavy escort to be protected from the cavalry and Wheeler interpreted these movements as preparations for a retreat, reporting such to Bragg. Buoyed by his sense that he had won the battle, Bragg was content to wait for Rosecrans to retreat.
On January 2, at 4:00 P.M., Bragg directed Breckenridge's troops to attack Beatty's division, which was occupying the hill on the east side of the river. The Union troops were pushed back across McFadden Ford, but the Confederate charge ran into heavy fire from massed Union artillery across the river and stalled. In less than an hour, the Confederates suffered over 1,800 casualties. A Union division led a counterattack and the Confederate troops retreated.
On January 3, a large supply train and reinforced infantry brigade reached Rosecrans. Wheeler's cavalry attempted to capture the ammunition train that followed it, but was repulsed. Late that evening, Thomas attacked the center of the Confederate line with 2 regiments in reaction to constant Confederate sharpshooting against troops in his division and drove the Confederates from their entrenchments, taking 70 to 80 prisoners.
Bragg's optimism had evaporated. He was convinced that Rosecrans would continue to receive reinforcements. He knew that the miserable weather of freezing rain could raise the river enough to split his army. Beginning at 10:00 P.M., Bragg withdrew through Murfreesboro and began a retreat to Tullahoma, 36 miles to the south. Rosecrans occupied Murfreesboro, but made no attempt to pursue Bragg.
Total casualties in the battle were 23,515: 13,249 on the Union side and 10,266 for the Confederates. This was the highest percentage of casualties of any major battle in the Civil War, higher in absolute numbers than the famous bloodbaths at Shiloh and Antietam earlier that year. The battle was tactically inconclusive, although Bragg was traditionally considered to be defeated since he withdrew first from the battlefield. He received almost universal scorn from his Confederate military colleagues; only his personal friendship with President Jefferson Davis saved his command. But a case can also be made that it was at least a strategic Union victory. The battle was very important to Union morale, as evidenced by Abraham Lincoln's letter to General Rosecrans: "You gave us a hard-earned victory, which had there been a defeat instead, the nation could scarcely have lived over." The Confederate threat to Middle Tennessee had been nullified.
Rosecrans spent five and a half months reinforcing Murfreesboro. The massive earthenworks "Fort Rosecrans" was built there and served as a supply depot for the remainder of the war. The next major clash, the Battle of Hoover's Gap, also known as the Tullahoma Campaign, did not come until June, when Rosecrans finally moved his army against Bragg.