The Battle of Rich Mountain
July 11, 1861 in Randolph County, West Virginia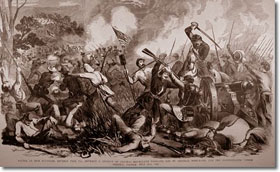 | | | | |
| --- | --- | --- | --- |
| Strength | Killed | Wounded | Missing/Captured |
| ~+mn~2,000 | 20 | 40 | ? |
| | | | |
| --- | --- | --- | --- |
| Strength | Killed | Wounded | Missing/Captured |
| ~+mn~1,300 | 60 | 140 | 100 |
Conclusion: Union Victory
Western Virginia Operations
Maj. Gen. George B. McClellan assumed command of Union forces in western Virginia in June 1861. On June 27, he moved his divisions from Clarksburg south against Lt. Col. John Pegram's Confederates, reaching the vicinity of Rich Mountain on July 9. Meanwhile, Brig. Gen. T.A. Morris's Union brigade marched from Philippi to confront Brig. Gen. R.S. Garnett's command at Laurel Hill.Confederate Lt. Col. John Pegram was in command of Camp Garnett with about 1,300 men and 4 cannons. He sent a small party to protect his rear at the Joseph Hart homestead at the pass where the Pike crossed the summit of Rich Mountain.
On the morning of July 11, the force at the pass consisted of 310 men and one cannon. Brig. Gen. William S. Rosecrans led a reinforced brigade by a mountain path to seize the Staunton-Parkersburg Turnpike in Pegram's rear. About 2:30 P.M., the Union column encountered Confederate skirmishers on top of Rich Mountain. The surprised Confederate outpost at the pass took cover behind rocks and trees and, with the help of their 1 cannon, held off the Union attack for over 2 hours. Badly outnumbered, they eventually gave way, and Rosecrans' troops took possession of the field. Pegram, realizing that the Confederates were in his rear, ordered the withdrawal of his remaining forces from Camp Garnett during the night.
Half escaped to Beverly, but Pegram and the others surrendered on July 13. Hearing of Pegram's defeat, Garnett abandoned Laurel Hill. The Federals pursued and, during the fighting at Corrick's Ford, Garnett was killed.
On July 22, McClellan was ordered to Washington, and Rosecrans assumed command of Union forces in western Virginia. The Union victory at Rich Mountain was instrumental in propelling McClellan to command of the Army of the Potomac.
Civil War Harper's Weekly, July 27, 1861
A brilliant battle, resulting in a complete success, signalized the opening of the campaign of General McClellan in Western Virginia. It occurred on Thursday afternoon at Rich Mountain, where a force of 2000 rebels were strongly intrenched under Colonel Pegram. The official dispatch of General McClellan to the War Department, dated from Rich Mountain, states that he dispatched Brigadier-General Rosencrans, a young and able West Point officer of engineers, with four regiments of Ohio and Indiana troops, as an advance-body, through the mountains from Roaring Rum, a distance of eight miles, over which route they had to cut their way through the woods.
After a march of nearly twelve hours, General Rosencrans came on the rear of the rebels, and, after a desperate fight of an hour and a half, completely routed them, driving them in the utmost disorder into the woods, and capturing all their guns, wagons, and camp equipage, or, as General McClellan says, "all they had." They also took several prisoners, many officers among them. Sixty of the rebels were killed, and a large number wounded. Of the Union troops twenty were killed and forty wounded. General McClellan had his guns mounted to command the rebel's position, but he found that the gallantry of Rosencrans spared him the trouble of going into action.