The Battle of Appomattox Station
April 8, 1865 in Appomattox County, Virginia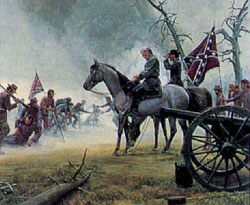 | | | |
| --- | --- | --- |
| Strength | Killed & Wounded | Missing/Captured |
| ~+mn~ ? | 200 | ? |
| | | |
| --- | --- | --- |
| Strength | Killed & Wounded | Missing/Captured |
| ~+mn~ ? | 500 | ? |
Conclusion: Confederate Union Victory
Maj. Gen. George A. Custer's division captured a supply train and 25 guns, driving off and scattering the Confederate defenders. This unique action pitted artillery without infantry support against cavalry. Custer captured and burned 3 trains loaded with provisions for Gen. Robert E. Lee's army.
Early on April 9, the remnants of Gen. John Brown Gordon's corps and Gen. Fitzhugh Lee's cavalry formed line of battle at Appomattox Court House. R. Lee determined to make one last attempt to escape the closing Union pincers and reach his supplies at Lynchburg.
At dawn the Confederates advanced, initially gaining ground against Brig. Gen. Philip Sheridan's cavalry. The arrival of Union infantry, however, stopped the advance in its tracks. Longstreet couldn't reinforce because of pressure from the east. Lee knew his army was now surrounded on three sides, and asked for a truce. It was a while before all the fighting died down – after years of combat men didn't believe white flags, didn't believe there would be a surrender.