The Battle of Iuka
September 19, 1862 in Iuka, Mississippi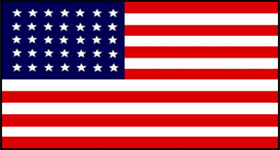 | | | | |
| --- | --- | --- | --- |
| Strength | Killed | Wounded | Missing/Captured |
| 4,500 est. | 144 | 598 | ? |
| | | | |
| --- | --- | --- | --- |
| Strength | Killed | Wounded | Missing/Captured |
| 4,200 est. | 263 | 692 | 561 |
Conclusion: Union Victory
Iuka & Corinth Campaign
Books on The Battle of Iuka
& the Iuka & Corinth Campaign
are available from Amazon.com
On September 14, Maj. Gen. Sterling Price's small Army of the West occupied Iuka, located near the Tennessee border. His superior, Gen. Braxton Bragg, the commander of the Army of the Mississippi, who was leading an offensive deep into Kentucky, ordered him to prevent Maj. Gen. William S. Rosecrans's Army of the Mississippi troops from moving into Middle Tennessee and reinforcing Brig. Gen. James Negley's division of Maj. Gen. Don Carlos Buell's Army of the Ohio, which was garrisoning Nashville. Price had about 14,000 men, and he was informed that, if necessary, he could request assistance from Maj. Gen. Earl Van Dorn, commanding the District of the Mississippi, headquartered at Holly Springs.
Conversely, in his Corinth headquarters northwest of Iuka, Maj. Gen. Ulysses S. Grant, commanding the Army of the Tennessee, feared that Price's men intended to go reinforce Bragg's assaults against Buell. Grant devised a plan for his left wing commander, Maj. Gen. E.O.C. Ord, and his 8,000-man force to advance on Price from Burnsville, 7 miles northwest of Iuka, and Rosecrans' 9,000-man force to march about 14 miles east from Jacinto to the city's southern outskirts for a coordinated attack. All elements were to arrive on the arrive around Iuka the night of September 18 and Ord's men to begin the battle early the next morning. Rosecrans' troops, smashing the Confederate left, would cut off Price's southern retreat route.
Price learned that Ord's men were marching on him from Burnsville. In a few hours, he received orders from Van Dorn to remove his force southwest of Jacinto to Rienzi and form a joint command with Van Dorn at its head. Together, they would campaign to West Tennessee. Price, not fully apprised of Rosecrans' march, decided to avoid battle with Ord and retreat west-southwest to Rienzi.
On September 19, a portion of Rosecrans' force became lost on the march from Jacinto. While Ord was prepared for battle, Rosecrans could not take up his post until early afternoon. From the Burnsville headquarters, Grant changed plans, sending word to Rosecrans that Ord would attack only after Rosecrans began the action, thus preserving coordination. Meanwhile, Ord sent a message to Price calling on him to surrender. In the message, Ord lied, saying Gen. Robert E. Lee's Eastern army had been smashed in Maryland and the war was effectively over. Discounting Ord's message, Price speeded evacuation plans.
By early afternoon, as his first elements moved southwest of the city, they collided with Rosecrans' men. He decided Grant's and Ord's presence to the northwest was a ruse, pulled troops from that front to face Rosecrans, and started a pitched battle south of the city. As Rosecrans advanced, his men fought actions with Confederate troops at points along the way. About 4:00 P.M., just after ascending a hill, the Union column halted because the Confederates were well-placed below in a ravine, filled with timber and underbrush. The Confederates launched attacks up the hill, capturing a 6-gun Ohio battery, while the Federals counterattacked from the ridge. Fighting, which Price later stated he had "never seen surpassed," continued until after dark; the Union troops camped for the night behind the ridge.
As more reinforcements were needed, elements of Brig. Gen. Lewis H. Little's division were called down from Ord's front. After Little was killed in the move, Brig. Gen. Louis Hebert assumed his command, assaulting Brig. Gen. Charles E. Hamilton's division at the head of Rosecrans' force deployed across the Jacinto road 1.5 miles south of the city. Federals there were also to cover the southerly Fulton road, but Rosecrans, hesitant to split his force, left it unguarded. Grant later approved this decision.
All through the fighting on the 19th, Ord sat northwest of Price, claimed he heard no fighting and wondered at Rosecrans' whereabouts. Grant also remarked that he had heard no sounds of battle This rare instance of "acoustic shadow" left Rosecrans to fight alone the whole afternoon. By evening, only a light Confederate cavalry screen covered Ord's front. Price planned more fighting south of Iuka on September 20.
Before daylight, Hebert and Brig. Gen. Dabney H. Maury convinced their general that the force to the north was more substantial than assumed and provoked his order to disengage and retreat. Price's men marched south off the battlefield on the uncovered Fulton road, keeping their wagons far in front and maintaining a heavy rear guard. pursuit by Rosecrans was pointless. tangled terrain and poor roads reduced the chase to a shambles. price joined Van Dorn and planned the Battle of Corinth for the next month.
There were mutual recriminations among the union commanders over Price's army eluding capture. Later, Grant conceded that Rosecrans had been correct to keep his force together and leave the Fulton road uncovered, but Rosecrans always doubted Ord's claim that he had not heard the fight.
Civil War Harper's Weekly, October 4, 1862
THE BATTLE AT IUKA: This town perpetuates the name of a distinguished son of the forest, who formerly dwelt on the premises. Weary and worn by his day's journey, the prisoner was wont to rest with safety beneath I-u-k-a's roof; and the venerable chief was equally beloved and honored by whites and Indians. Like the Immortal Logan, his name is classed with the brave and generous of his race. He died on the spot about the year 1835-6.
Iuka was laid out as a town plot in April, 1857, and numbers three hundred population.
The following is General Grant's official account of' the battle:
IUKA, MISSISSIPPI, Sept. 20, 1862. To Major-General H. W. Halleck, General-in-Chief:
General Rosecrans, with Stanley's and Hamilton's divisions and Misener's cavalry, attacked Price south of this village about two hours before dark yesterday, and had a sharp fight until night closed in. General Ord was to the north with an armed force of about 5000 men, and had some skirmishing with the rebel pickets. This morning the fight was renewed by General Rosecrans, who was nearest to the town; but it was found that the enemy had been evacuating during the night, going south. Generals
Hamilton and Stanley, with cavalry, are in full pursuit.
This will no doubt break up the enemy, and possibly force them to abandon much of their artillery. The loss on either side, in killed and wounded, is from 400 to 500. The enemy's loss in arms, tents, etc., will be large. We have about 250 prisoners.
I have reliable intelligence that it was Price's intention to move over east of the Tennessee. In this he has been thwarted. Among the enemy's loss are General Little killed, and General Whitefield wounded.
I can not speak too highly of the energy and skill displayed by General Rosecrans in the attack, and of the endurance of the troops. General Ord's command showed untiring zeal; but the direction taken by the enemy prevented them from taking the active part they desired. Price's forces was about 18,000.