The Battle of Sayler's Creek
April 6, 1865 in Amelia, Nottoway, and Prince Edward Counties, Virginia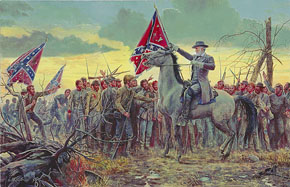 | | | | |
| --- | --- | --- | --- |
| Strength | Killed | Wounded | Missing/Captured |
| ~+mn~ ? | 166 | 1,014 | ? |
| | | | |
| --- | --- | --- | --- |
| Strength | Killed | Wounded | Missing/Captured |
| ~+mn~ ? | 1,000 | 1,899 | 6,000 |
Conclusion: Union Victory
After the Battle of Five Forks and the Union breakthrough at Petersburg on April 2, Gen. Robert E. Lee had to retreat. He headed west as fast as he could, but the Army of Northern Virginia was exhausted after a winter in the trenches and weakened by short rations. Lee could never shake the Union pursuit, which was simplified because Lee had an obvious goal: the railroads west towards Lynchburg, his new supply base. With every step Lee's army was shrinking, thanks to Union cavalry snapping at his heels, and demoralized and hungry stragglers falling out of the Confederate columns.
On April 6, things took a rapid turn for the worse for Lee, or a rapid turn towards peace and the restoration of the Union. To move faster, Lee had split his army and was strung out, moving west in one long column on two roads. Maj. Gen. James Longstreet's large corps was leading the way on the southern road towards Rice's Station, while the wagon train with Anderson's and Lt. Gen. Richard Ewell's 2 weak corps were taking the northern road that crossed 2 branches of Sayler's Creek. Maj. Gen. John B. Gordon with 3 divisions was the rearguard. With his cavalry out ahead to clear the roads, Lee had his army basically in 4 pieces, relying on them to maintain contact and help each other.
Then, Longstreet was pinned down at Rice's Station by Union infantry, and had to commit 3 of his 4 divisions. He staved off the attack with little difficulty, but it was important because Longstreet wasn't able to send more men to bail out the center of the column.
Both Anderson and Ewell ran into trouble– and didn't pass on the news soon enough. Ewell halted to drive back pursuing infantry from Wright's VI Corps. He drove them back temporarily, but lost time in doing so, which put him at risk if the center of the column broke.
Sheridan's cavalry were doing just that. Anderson had to deploy to drive off cavalry that were harassing his flanks, and the main wagon train (despite the mobility problems Lee had to keep the wagons to transport ammunition, else he would have to surrender the moment his men ran out). Then Maj. Gen. Philip Sheridan saw the possibilities: Anderson was stopped, with nothing protecting him to the west. Sheridan shook out 2 cavalry divisions, Maj. Gens. George A. Custer's and Devin's, to hold Anderson. Then, seeing the confusion in Anderson's men, he seized his opportunity. "Never mind your flanks. Go through them! They're demoralized as hell!" Anderson's tired, hungry men were indeed demoralized, and they collapsed. Only Wise's brigade of Virginians fought their way out as a unit. Anderson managed to get half of his 3,000 men away, but the catastrophe was not just to him: it opened the way for Sheridan to pounce on Ewell.
Sheridan knew right away what the situation was. He left Custer's men to round up Confederate prisoners, and headed north to where Wright still had Ewell pinned down. Artillery had been firing all morning, inflicting some losses but nothing serious, while three blue-clad infantry divisions prepared to attack east to west across the valley of Little Sayler's Creek. Ewell had only 2 divisions, Kershaw's veterans and Custis Lee's miscellany of reserve clerks and naval personnel.
Kershaw's men fought hard but Sheridan's cavalry was suddenly on their flank and in their rear. Even then they didn't immediately give up, but when it became clear there was no way out, the alternatives were surrender or being shot to pieces, surrender made more sense. Ewell did the honors, and of his 3,000 men only about 200 escaped in the confusion.
Lee staved off even worse defeat by juggling his reserves. He grabbed Mahone's division from Longstreet, and deployed them to stop pursuit westward from Sayler's Creek. He was depressed by the rout and surrender he saw: "My God! Has the army been dissolved?" but Mahone was firm and Lee recovered. He advanced beyond Mahone's line and sat on his horse with a flag to rally the refugees.
The results were catastrophic for the Army of Northern Virginia. Anderson's Corps was remnants; barely 200 men from Ewell's were still with the army. Gordon's 3 divisions lost another 1,700 prisoners; the total just of prisoners was 6,000. Add in the 2,000 killed or wounded, and Lee had lost one-third of his strength. Ewell was himself one of the prisoners, and knew defeat when he tasted it. "Our cause is lost; Lee should surrender before more lives are wasted."
This action can be considered the death knell of the Confederate army. Gen. Ulysses S. Grant did not ease the pace of pursuit, and 2 days later Union cavalry finally moved west of Lee.