The Battle of Glendale
June 30, 1862 in Henrico County, Virginia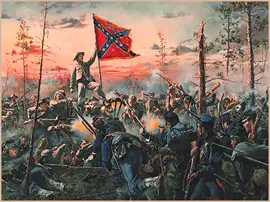 | | | | |
| --- | --- | --- | --- |
| Strength | Killed | Wounded | Missing/Captured |
| ~+mn~ ? | 210 | 1,513 | 1,310 |
| | | | |
| --- | --- | --- | --- |
| Strength | Killed | Wounded | Missing/Captured |
| ~+mn~ ? | ? | ? | ? |
Conclusion: Inconclusive / Draw
Seven Days Campaign
This is the fifth of the Seven Days' Battles. On June 30, Gen. Lee's planned convergence on Maj. Gen. McClellan's retreating army again miscarried. Again, Maj. Gen. Thomas J. Jackson was slow and indecisive in his advance. Once again, Maj. Gen. Magruder vacillated, and Maj. Gen Huger allowed felled trees across the Charles City road to block his advance. As a result, Maj. Gens. Longstreet and Hill's divisions were alone when they converged on the retreating Union army in the vicinity of Glendale/ Frayser's Farm.
The Confederates were successful at first, Longstreet's and Hill's attacks penetrated the Union defense near Willis Church, routing McCall's division with McCall being captured. Hill and Longstreet struck very near the center of the Army of the Potomac and Union reinforcements were nearby.
Union counterattacks by Brig. Gen. Kearny's and Maj. Gen. Hooker's divisions, along with Brig. Gen. Sedgwick's, sealed the break and closed the gap.
This action saved their line of retreat along the Willis Church Road. This was Lee's best chance to cut off the Union army from the James River. In brutal, often hand-to-hand, fighting amid tangled undergrowth, the battle raged into the night. When it was over, the Union line had held, and McClellan's escape was all but secure.
During the night, 4 Union corps took up positions on Malvern Hill. McClellan's remaining corps, that of Brig. Gen. Keyes, occupied Harrison's Landing about 7 miles away. The huge wagon train of the Army of the Potomac was also at Harrison's Landing, safely under the guns of Union warships on the James River.