Major General John Sedgewick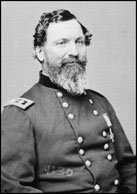 Sedgewick, John
September 13, 1813
Cornwall Hollow, CT
May 9, 1864
Spotsylvania, Virginia
Union
Sedgewick was named for his grandfather, a Revolutionary War general who served with George Washington. He attended Sharon Academy briefly and taught school for 2 years before entering West Point. He graduated in 1837, ranked ?? out of ?? in his class. He was commissioned a lieutenant in the U.S. artillery. He fought in the Seminole Wars, was involved in the Trail of Tears episode, and received 2 brevet promotions in the Mexican War, to captain for Contreras and Churubusco, and to major for Chapultepec. After returning from Mexico he transferred to the cavalry and served in Kansas, the Utah Expedition, and in the Indian Wars.
At the start of the Civil War, he served as a Colonel and Assistant Inspector General of the Military Department of Washington. He missed the early action of the war at 1st Bull Run, recovering from cholera. Promoted to Brigadier General on August 31, 1861, he commanded the 2nd brigade of Major Gen. Samuel P. Heintzelman's division in the Army of the Potomac. He then commanded his own Division, which was designated the 2nd division of the II Corps for the Peninsula Campaign. In Virginia, he fought at Yorktown and Seven Pines and was wounded in the arm and leg at Glendale. He was promoted to major general on July 4, 1862.
At Antietam, II Corps commander Major Gen. Edwin V. Sumner impulsively sent Sedgwick's division in a mass assault without proper reconnaissance. His division marched into a trap and was struck by Confederate forces under Lieutenant Gen. Thomas J. "Stonewall" Jackson from 3 sides. Sedgwick himself was hit by 3 bullets, in the wrist, leg, and shoulder, and was out of action until after Fredericksburg.
From December 26, 1862, he briefly led the II Corps and the IX Corps, and then finally the VI Corps of the Army of the Potomac, which he commanded until his death in 1864. During Chancellorsville, his corps faced Fredericksburg in an initial holding action while Major Gen. Joseph Hooker's other four corps maneuvered against Gen. Robert E. Lee's left flank. He was slow to take action, but eventually crossed the Rappahannock River and assaulted Major Gen. Jubal Early's small force on Marye's Heights. Moving west slowly to join forces with Hooker and trap Lee between the halves of the army, he was stopped by portions of Lee's II Corps under Major Gen. J.E.B. Stuart, at Salem Church, forcing his eventual retreat back over the Rappahannock River.
At Gettysburg, his corps was in reserve and saw no action. He served in the Mine Run Campaign and in the 1864 Overland Campaign, the VI Corps was on the Union right at the Wilderness and defended against assaults by Lieutenant Gen. Richard S. Ewell's II Corps.
Sedgwick fell at the beginning of Spotsylvania Court House. His corps was probing skirmish lines ahead of the left flank of Confederate defenses and he was directing artillery placements. Confederate sharpshooters were about 1,000 yards away and their shots caused members of his staff and artillerymen to duck for cover. He strode around in the open and was quoted as saying, "What? Men dodging this way for single bullets? What will you do when they open fire along the whole line? I am ashamed of you. They couldn't hit an elephant at this distance." Although ashamed, his men continued to flinch and he repeated, "I'm ashamed of you, dodging that way. They couldn't hit an elephant at this distance." Just minutes later, he fell forward with a bullet hole below his left eye. He was the highest ranking Union casualty of the Civil War. He was the most senior by date of rank of all major generals killed in the war.
Sedgwick's reputation was that of a solid, dependable, but relatively unaggressive general. He was well-liked by his soldiers, who referred to him affectionately as "Uncle John". His death was met by universal sorrow; even Lee expressed his sadness over the fate of an old friend. Major Gen. George G. Meade wept at the news. Lieutenant Gen. Ulysses S. Grant characterized him as one who "was never at fault when serious work was to be done" and he told his staff that the loss for him was worse than that of an entire division. He became the third and final corps commander in the Army of the Potomac to be killed in action.
Sedgwick is buried near his birthplace of Cornwall Hollow, Connecticut. An equestrian statue honors him and the VI Corps at Gettysburg National Military Park.
Promotions:
Colonel - March 16, 1861
Colonel - April 25, 1861
Brigadier General USV- August 31, 1861
Major General USV- July 4, 1862
Major Commands:
2nd Brigade, Heintzelman's Division, Army of the Potomac (October 31 1861-February 9, 1862)
Stone's (old) Division, Army of the Potomac (February 9-March 13, 1862)
2nd Division, II Corps, Army of the Potomac (March 13-September 17, 1862)
II Corps, Army of the Potomac (December 26, 1862-January 26, 1863)
IX Corps, Army of the Potomac (January 16 - February 5, 1863)
VI Corps, Army of the Potomac (February 4 1863-April 6, 1864 and April 13-May 9, 1864)