Major General James B. McPherson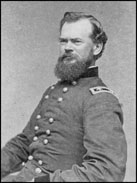 McPherson, James Birdseye
November 14, 1828
near Clyde, Ohio
July 22, 1864
Atlanta, Georgia
Union
McPherson grew up in poverty but, through the help of a merchant with whom he was friendly, he obtained an appointment to West Point. He graduated in 1853, ranked1 out of 52 in the class. He was assigned to the Corps of Engineers, and taught engineering at the school. He was reputed to be a highly promising young officer.
At the start of the Civil War, McPherson was stationed in San Francisco, California, but requested a transfer to the Corps of Engineers. He thought that a transfer to the East would further his career. He departed California on August 1, 1861, and arrived soon after in New York. He requested Major Gen. Henry W. Halleck , one of the senior Western commanders for a position on his staff. He received this while a captain in the Corps of Engineers, and was sent to St. Louis, Missouri.
McPherson's career began rising after this assignment. He was the Chief of Engineers, after being promoted to Lieutenant Colonel, under Lieutenant Gen. Ulysses S. Grant's army during the takeover of Fort Henry and Fort Donelson. Following Shiloh, he was promoted to Brigadier General. On October 8, 1862, he was promoted to major general, and given command of the XVII Corps, Army of the Tennessee, soon after.
Performing well in the Vicksburg Campaign, and his corps played an important role in the Union victory at Champion's Hills in May 1863. After participating in Major Gen. William T. Sherman's Meridian Campaign in Mississippi, McPherson took command of the Army of the Tennessee. In early May, he was unable to maneuver through the Snake Creek Gap to hit the rear of the Confederate retreat at the beginning of the Atlanta Campaign.
On March 12, 1864, he was given command of the Army of the Tennessee, after its former commander, Major Gen. William T. Sherman, was promoted to command of all Armies in the West after Grant was sent to the East. His army was the Right Wing, along with the Army of the Cumberland and the Army of the Ohio consisting the rest of the Union force. On May 5, 1864, Sherman began his march toward Atlanta.
Sherman planned to have the bulk of his forces feint toward Dalton, Georgia, while McPherson would bear the brunt of Confederate Gen. Joseph E. Johnston's attack, and attempt to trap them. However, the Confederate forces eventually escaped, and Sherman blamed him for being "slow", although it was mainly faulty planning on Sherman's part that led to the escape. His troops followed the Confederates "vigorously", and was resupplied at Kingston, Georgia. The troops drew near Pumpkinvine Creek, where they formed and attacked the Confederates at Dallas, Georgia, even before Sherman's order to do so. Johnston and Sherman maneuvered against each other, until the Union disaster at Kennesaw Mountain. He then tried a flanking maneuver at Marietta, but that failed as well.
However, on July 17, President Jefferson Davis removed Johnston and placed Lieutenant Gen. John B. Hood in his place. Hood was eventually defeated, and retreated into Atlanta. Meanwhile, McPherson had advanced his troops into Decatur, Georgia, and from there, they moved onto the high ground on Bald Hill overlooking Atlanta. They noticed that the Confederate troops had left Atlanta. Sherman believed that the Confederates had been defeated and left Atlanta; however, he believed that they were moving to attack the Union right and rear. While they were discussing this new development, though, 4 divisions under Lieutenant Lieutenant Gen. William Hardee flanked Major Gen. Grenville Dodge's XVI Corps.
However, while riding his horse toward his old XVII Corps, a line of Confederate skirmishers appeared, yelled "Halt!". McPherson raised his hand to his head as if to remove his hat, but suddenly wheeled his horse, presumably to attempt escape. The Confederates opened fire and mortally wounded him. He was well-loved by his troops, and his presence was sorely missed in the Western theatre of operations.
Promotions:
Brigadier General USV- May 15, 1861
Major General USV- October 8, 1862
Major Commands:
Department of Missouri
Engineer Brigade, Army of the Tennessee (June 4- October 4, 1862
2nd Division, Army of the Tennessee (October 16-24, 1862)
2nd Division, XIII Corps (October 24- November 2, 1862)
Right Wing, XIII Corps (November 2- December 18, 1862)
XVII Corps (December 18, 1862- March 26, 1864)
Army of the Tennessee (March 27- July 22, 1864)