Major General Quincey A. Gillmore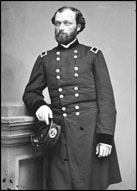 NAME
Gillmore, Quincey Adams
BORN
February 28, 1825
Lorain County, Ohio
DIED
April 7, 1888
Brooklyn, New York
ARMY
Union
Gillmore graduated at the top of his class at the West pointin 1849, ranked 1 out of 43 in his class. He received a commission in the Corps of Engineers. He helped build forts from 1849-52, taught at West Point from 1852-56, and was the head of the Engineer Agency in New York City from 1856-61.
By the time the Civil War began, Gillmore was a 1st lieutenant. He was appointed Chief Engineer of the Port Royal Expedition. He was praised for his capture of Fort Pulaskia.
He was given command of the Department of the South and the X Corps. He helped bring about the capture of Morris Island and Battery (Fort) Wagner, as well as the destruction of Fort Sumter. He fought at Bermuda Hundred, Swift's Creek, Port Walthal Junction, and Drewry's Bluff.
In 1864, Major Gen. Benjamin F. Butler unfairly blamed Gillmore for a series of Union failures, and sent Gillmore to Washington in disgrace. Taking part in the defense of Washington, D.C., he was injured in Early's Raid so seriously, by falling from a horse, that he could not participate in anything more than nominal duty for the rest of the war.
After the war, Gillmore remained in the Corps of Engineers. He had Ball, Black & Company of New York make 400 bronze medals to reward enlisted people who had made significant contributions in operations against Charleston, South Carolina and Fort Sumter. The "medals of honor" included certificates explaining why the medals had been awarded. He asked regimental commanders to provide the names of individuals who had earned the medal. He spent many years working to improve fortifications off the south Atlantic coast, and also helped improve some of the harbors he had been involved in closing.
Gillmore wrote many professional books and treatises and served as President of the Mississippi River Commission.
Promotions:
Captain-
Brigadier General USV- April 28, 1862
Major General USV- July 10, 1863
Brigadier General USA- March 13, 1865
Major General USA- March 13, 1865
Major Commands:
2nd Division, Army of Kentucky (October 14, 1862- January 25, 1863)
District of Central Kentucky (January 25- April 10, 1863)
Department of the South and X Corps (June 12, 1863- May 1, 1864)
Division, XIX Corps
Site Map
| Copyright © 2012
USwars.com
,