Major General Joshua L. Chamberlain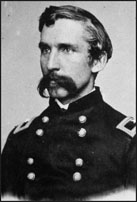 Chamberlain, Joshua Lawrence
September 8, 1828
Brewster, Maine
February 24, 1914
Portland, Maine
Union
Chamberlain was the eldest of 5 children and worked on his father's farm. His great-grandfathers were soldiers in the Revolutionary War and his grandfather had served during the War of 1812. His father had served during the abortive Aroostook War of 1839. He had developed strong abolitionist views from hearing a friend recite passages from "Uncle Tom's Cabin" .
Chamberlain went to Bowdoin College and graduated in 1852. He was a member of Phi Beta Kappa. He married Fanny Chamberlain, daughter of a clergyman, in 1855. They had 5 children, 2 of whom died in infancy. He studied for 3 additional years at Bangor Theological Seminary and returned to Bowdoin College and began a career in education as a professor of rhetoric, eventually teaching every subject in the curriculum but mathematics.
He was not trained in military science, but felt a strong desire to serve his country. At the outbreak of the Civil War, Chamberlain went to the Maine state capital to offer his services in 1862. Offered the Colonelcy of a regiment, he declined, preferring to "start a little lower and learn the business first." The Bowdoin College administration felt that he was too valuable to the college faculty and asked him not to enlist. In the summer of 1862, however, he obtained a sabbatical, with the stated intention of studying languages in Europe for 2 years. Instead of going to Europe, however, he enlisted in the Union army and was made Lieutenant Colonel of the 20th Maine Volunteer Infantry Regiment.
With the regiment, Chamberlain took part in the battles of Antietam, Shepherdstown Ford , Fredericksburg (wounded), and Chancellorsville.
At Gettysburg, Chamberlain commanded the regiment and was ordered to hold the extreme left flank on Little Round Top, a small wooded hill on the left of the Union line. He realized that the site was important to the Union position, and he and his troops held the spot, repeatedly pushing back Confederate attacks. He made a critical decision, and led the Union troops in a forceful bayonet charge after running out of ammunition. The charge broke the Confederate attack, and kept Little Round Top in Union hands. Although he was wounded in the foot by a spent bullet, he continued to command the troops until the Confederates were forced to retreat from Gettysburg. In November 1863, he was relieved from field service and sent to Washington suffering from malaria. He was given lighter duties.
Resuming command of the regiment in May 1864, he led it at Cold Harbor. Assigned to brigade command in June, he fought in the Petersburg siege, during which he was wounded for the fourth time at Rives' Salient. He was shot through the right hip and groin. The wound was considered mortal by the division's surgeon, who predicted he would perish. His death was reported in the Maine newspapers.
Lieutenant Gen. Ulysses S. Grant was so impressed by his service and courage there that he promoted Chamberlain to Brigadier General on the field. Some sources believe this was the only such promotion ever given by Grant. Despite the severity of the wound, he recovered and returned to the army, and was brevetted a major general. Although many, including his wife Fanny, urged him to resign, he was determined to serve through the end of the war.
He then took part in the Appomattox Campaign. Given a brigade command, Chamberlain continued to act with courage and resolve. On March 29, 1865, his brigade participated in a major skirmish at Lewis' Farm (Quaker Road) during Grant's final advance. Despite losses, another wound in the left arm and chest, and nearly being captured, he was successful and brevetted to the rank of major general by President Abraham Lincoln.
Chamberlain was responsible for one of the most poignant scenes of the Civil War at the April 12, 1865 surrender of Gen. Robert E. Lee's Army of Northern Virginia at Appomattox Court House. Grant placed him in charge of receiving the surrender of Confederate weapons and battle flags. As the conquered Confederate soldiers marched down the road to surrender their arms and colors, Chamberlain, without orders or permission, ordered his men to come to attention and "carry arms" as a show of respect. His salute was unpopular with many in the north, but he defended his action in his memoirs.
Chamberlain was mustered out of the service in January 1866, and refused a commission in the Regular Army. In all, he served in 20 battles and numerous skirmishes, was wounded 6 times, and had 6 horses shot from under him. He went back to his home state of Maine and served as Governor of Maine for 4 terms from 1866-70. After leaving political office, he returned to Bowdoin College and was appointed president from 1871-83. He was forced to resign due to ill health from his war wounds.
Chamberlain was active in the Grand Army of the Republic and other veteran groups. He made many return visits to Gettysburg, giving speeches at soldiers' reunions. He engaged in business activities, including real estate dealings in Florida. He also wrote several books about Maine, education, and his Civil War memoir, "The Passing of the Armies." In August 1893, he received the Congressional Medal of Honor in recognition of his actions at Gettysburg.
In 1905, his wife Fannie died. In 1900, he was appointed Surveyor of the Port of Portland, a Federal appointment, where he lived until his death at age 85. He was buried at Pine Grove Cemetery.
Promotions:
Colonel - May 20, 1863.
Brigadier General USV - June 18, 1864
Major General USV - March 29, 1865
Major Commands:
3rd Brigade, 1st Division, V Corps (August 26-November 19, 1863); 1st Brigade (June 6-18, 1864)
1st Brigade (November 19, 1864-January 5, 1865)
1st Brigade (February 27-April 11, 1865)
3rd Brigade (April 10-25, 1865)