Major General John M. Schofield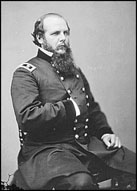 Schofield, John McAllister
September 29, 1831
Gerry, New York
March 4, 1906
St. Augustine, Florida
Union
Schofield graduated from West Point in 1853, ranked 7 out of 52 in his class. He served for 2 years in the artillery and was then appointed as an assistant professor of Natural and Experimental Philosophy at West Point from 1855-60. He was granted a leave of absence in 1860 to teach physics at Washington University in St. Louis, Missouri. While there, the Civil War started.
Schofield became a major in a Missouri volunteer regiment and served as Chief of Staff to Major Gen. Nathaniel Lyon. In August 1861, He led with "conspicuous gallantry" at Wilson's Creek, and would later be awarded the Medal of Honor. Lyon was killed in the battle. He was promoted to Brigadier General of volunteers on November 21, 1861, and to major general on November 29, 1862. From 1861-63, he performed various military duties in Missouri. In 1864, as commander of the Army of the Ohio, he took part in the Atlanta Campaign under Major Gen.William T. Sherman.
In October 1864, Schofield was sent to Tennessee to join Major Gen. George H. Thomas in opposing Lieutenant Gen. John B. Hood. On November 30, he fought Major Gen. John B. Hood in at Franklin. Two weeks later, he took part in Thomas's crowning victory at Nashville. For his services at Franklin, he was awarded the rank of Brigadier General in the Regular Army, and the brevet rank of major general on March 13, 1865.
Ordered to operate with Sherman in North Carolina, Schofield moved his corps by rail and sea to Fort Fisher, North Carolina, and occupied Wilmington on February 22, 1865, fought the action at Kinston on March 10, and on March 23, joined Sherman at Goldsboro.
After the war, Schofield displayed his skills as an administrator, commanding the 1st Military District in Virginia. He was sent on a special diplomatic mission to France, on account of the presence of French troops in Mexico and to negotiate the removal of the French troops. From June 1868- March 1869, he served as Secretary of War under President Andrew Johnson, after the retirement of Edwin M. Stanton. From 1876-81, he was superintendent at West Point , and from 1888-95, he was Commanding General of the United States Army. He was awarded the Congressional Medal of Honor in 1892 for his actions at Wilson's Creek. He retired as a lieutenant general in 1895.
Schofield is buried at Arlington National Cemetery. His memoirs, "Forty-six Years in the Army," was published in 1897.
Promotions:
Captain- ?? ??, 1861
Major- April 26, 1861
Brigadier General USV- November 21, 1861
Major General USV- November 29, 1862
Brigadier General USA- November 30, 1864
Major General USA- March 13, 1865 (brevetted for actions at Franklin)
Major Commands:
Military District of Missouri (June 5- September 24, 1862)
District of Southwest Missouri (September 24- November 10, 1862 and March 30- May 24, 1863)
Army of the Frontier, Depart of Missouri (October 12, 1862- may 30, 1863)
3rd Division/ XIV Corps/ Army of the Cumberland (May 24, 1863- January 30, 1864)
XXIII Corps/ Department of the Ohio (April 9- May 26, 1864)
Army of the Ohio (February 9- November 17, 1864)
XXIII Corps (February 9- March 31, 1865)
Department of North Carolina (January 31- June 27, 1865)