Major General George B. McClellan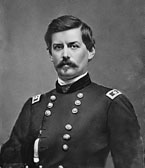 McClellan, George Brinton
December 3, 1826
Philadelphia, Pennsylvania
October 29, 1885
Orange, New Jersey
Union
McClellan entered West Point from the University of Pennsylvania. He graduated in 1846, ranked 2 out of 59 his class. He was assigned to the Corps of Engineers. In the Mexican War, he earned two brevets under Gen Winfield Scott and later served at West Point. The slow promotions in the regular army prompted him to take a captaincy in the cavalry in the 1855.
McClellan was dispatched to study European armies and filed an extensive report centering on the Crimean War siege operations at Sebastopol. He travelled widely and altered the Prussian and Hungarian cavalry saddles into the "McClellan Saddle" that was used until the army abolished its mounted arm.
McClellan resigned his commission January 16, 1857, and got into the railroad business, becoming Chief Engineer and eventually Vice-President of the Illinois Central Railroad and then eventually Division President of the Ohio & Mississippi Railroad.
When the Civil War began, McClellan was living in Cincinnati. Appointed major general of Ohio Volunteers, he became well known for his skills as an administrator. His first combat assignment was to occupy the area of western Virginia, which wanted to remain in the Union and later became the state of West Virginia. By the time he was promoted to major general in the Regular Army, he had won some minor victories in western Virginia, at the battles at Rich Mountain and Corrick's Ford, for which he took credit. He received the Thanks of Congress on July 16, 1861.
President Abraham Lincoln appointed McClellan commander of the Army of the Potomac on July 26. He brought a much higher degree of organization to this army. He was called to take charge at Washington, D.C. after the disaster at the First Battle of Bull Run. On November 1, he became General -in-Chief of all Union armies after Gen. Winfield Scott's retirement.
In late 1861 and early 1862, many became impatient with McClellan's slowness to attack while he insisted the troops were still not ready. Lincoln urged him to attack and accepted McClellan's plan to advance on Richmond from the southeast after moving by sea to Fort Monroe, Virginia- known as the Peninsula Campaign. Lincoln removed McClellan from General -in-Chief in mid-1862, while leaving him in command of the Army of the Potomac.
McClellan's advance up the Virginia peninsula proved to be slow. He believed intelligence reports that credited the Confederates with 2 or 3 times the men they actually had. Critics of his slowness felt justified when some of the Confederate fortifications proved to be lined with fake cannons. The Confederate Brigadier Gen. John B. Magruder also exploited McClellan's caution by marching a group of men over and over again past places where they could be observed, to give the impression of a long line of troops arriving.
McClellan placed hopes on a simultaneous naval approach to Richmond via the James River. That approach proved flawed following the Union navy's defeat at the Battle of Drewry's Bluff about 7 miles downstream. He came within a few miles of Richmond and on June 1, his army repelled an attack at the Battle of Seven Pines. Gen. Joseph E. Johnston was wounded in this battle, and President Jefferson Davis named Gen. Robert E. Lee commander of the Army of Northern Virginia. McCllellan spent the next 3 weeks repositioning his troops and waiting for reinforcements, losing valuable time while the Confederates beefed up Richmond's defenses.
At the end of June, Lee ordered a series of attacks in the Seven Days Battles. While these attacks failed to attain Lee's goal of crushing McClellan's army, they destroyed McClellan's nerve and convinced him to withdraw his army further from Richmond to a base on the James River. In a telegram reporting on these events, McClellan accused Lincoln of doing his best to see that the Army of the Potomac was sacrificed, a comment that Lincoln never saw.
Urged to remove McClellan from command, Lincoln compromised by taking some of McClellan's men and some newly organized units to create the Army of Virginia under Major Gen. John Pope, who was to advance towards Richmond from the northeast. Pope was beaten spectacularly by Lee at the Second Battle of Bull Run.
In the Maryland Campaign, McClellan advanced to confront Lee in western Maryland and moved fast when some of his command found a copy of Lee's orders for the movement of his troops. His caution returning, McClellan slowed down, and Lee was able to get most of his men in line at the Battle of Antietam. McClellan attacked piecemeal and his attacks failed to crush Lee, who was heavily outnumbered with his back to the Potomac River. Lincoln was extremely upset by Lee's escape but nonetheless used the victory to issue the Emancipation Proclamation.
McClellan resorted to constant demands for more men and called for massive reequipping and fresh horses for his cavalry. Then, for the second time, Major Gen. J.E.B. Stuart's Confederate cavalry rode completely around the Army of the Potomac, Under orders from the War Department, McClellan relinquished command on November 9, 1862, and returned to his Trenton, New Jersey, home to await new directives. He was never given another command.
McClellan's troops referred to him affectionately as "Little Mac" and the "Young Napoleon." During critical battles, he generally stayed well away from any action. During the Seven Days Battles, he kept himself far away from the scenes of battle north of the Chickahominy River. At the Battle of Malvern Hill, he was on a Union gunboat, the USS Galena, at one point 10 miles away down the James River. At Antietam, his headquarters was miles to the rear and he had little control over the battle.
McClellan would be the Democratic candidate for president in 1864. He would go on to run against Lincoln in the presidential election. McClellan was hampered by the Democratic party's plank calling for an end to the war, which was labeled a failure. He denounced the plank and was for the rigorous pursuit of victory. In the summer of 1864, Lincoln feared that he would lose the election because of the public growing tired of the war. At first, it appeared that he would defeat Lincoln, but several Union victories in the field diminished the public's war weariness. Winning in only 3 states, he resigned from the army on election day.
After the war, McClellan was appointed Chief Engineer of the New York City Department of Docks. In 1872, he was named the president of the Atlantic & Great Western Railroad, and became involved in the South Improvement Company rate-rebate scheme of John D. Rockefeller Jr. who was developing Standard Oil. Also that year, McClellan was among the many investors who were deceived by Philip Arnold in a famous diamond and gemstone hoax.
McClellan was elected Governor of New Jersey in 1877, serving from 1878-81. He is buried at Riverview Cemetery in Trenton, New Jersey. His final years were devoted to traveling and writing. He justified his military career in his memoir "McClellan's Own Story," published in 1877.
Promotions:
Major General USV- April 23, 1861
Major General USA- May 14, 1861
Major Commands:
Ohio Militia (April 23 - May 13, 1861)
Army of Occupation, West Virginia, Department of the Ohio and the department (May 13-July 23, 1861)
Military Division of the Potomac (July 25 - August 15, 1861)
Army and Department of the Potomac (August 15, 1861 - November 9, 1862)
commander-in-chief, USA (November 5, 1861 - March 11, 1862)