Rear Adm. Andrew H. Foote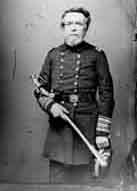 Andrew Hull Foote
September 12, 1806
New Haven, Connecticut
June 26, 1863 New York
Union
Andrew Hull Foote (September 12, 1806 – June 26, 1863) was an admiral in the United States Navy who served during the American Civil War.
Born at New Haven, Connecticut, the son of US Senator Samuel Augustus Foote (or Foot), Foote first qualified for entry to the United States Military Academy at West Point, New York, and entered their class of 1826. Six months later, deciding that he preferred a seafaring career to one on land, Foote resigned to accept an appointment as a midshipman in the US Navy on December 4, 1822.
Between 1822 and 1843, Foote saw service in the Caribbean, Pacific, and Mediterranean, and at the Philadelphia Navy Yard. A reformer, Foote organized a Temperance Society aboard the USS Cumberland, which developed into a movement that resulted in ending the policy of supplying grog to US Naval personnel.
During 1849-1851, Foote commanded the USS Perry, cruising the waters off the African coast. He was active in suppressing the slave trade there. This experience persuaded him fully to the cause of Abolition, and in 1854, he published an antislavery tract, Africa and the American Flag. He also became a frequent speaker on the Abolitionist circuit.
During 1851-56, Foote served in various shore posts, including on the US Navy Efficiency Board that was created by Commodore Samuel Francis DuPont.
Foote was promoted to Commander in 1856, and took command of the USS Portsmouth in the East India Squadron on November 20–21, 1856. With this command, Foote was assigned the mission of observing British operations against Canton, China during the Opium War, but this resulted in his being attacked from Chinese shore batteries. Foote led a landing party that seized the barrier forts at Canton, China, in reprisal for these attacks.
Foote returned to the Continental United States in 1858, and took command of the Brooklyn Navy Yard, in Brooklyn, New York, a post he held until the outbreak of the hostilities of the Civil War.
From August 30, 1861, to May 9, 1862, Foote commanded the Mississippi River Squadron with distinction, organizing and leading the gunboat flotilla in the capture of Forts Henry and Donelson and Island No. 10. He received the Thanks of Congress for his actions at these three battles. Wounded in action at Fort Donelson, Foote was promoted to rear admiral on July 16, 1862, and was on his way to take command of the South Atlantic Blockading Squadron for duty outside Charleston, South Carolina, when he died at New York.
Three ships were named USS Foote for him. Civil War Fort Foote on the Potomac, now a National Park, was also named for him
Promotions:
Major Commands: