Major General William B. Franklin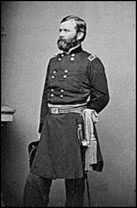 Franklin, William Buel
February 27, 1823
York, Pennsylvania
March 8, 1903
Hartrford, connecticut
Union
Senator James Buchanan, future president, appointed Franklin to West Point. He graduated in 1843, ranked 1 out of 39. After graduating, he joined the Topographical Engineers. He was appointed an engineer, and served with distinction in the South Pass Expedition and the Mexican War, under Col. Philip Kearny. During the Mexican War, he received a brevet promotion to 1st lieutenant in the Battle of Buena Vista. In 1859, he replaced Montgomery C. Meigs as the engineer supervising construction of the United States Capitol Dome.
After the beginning of the Civil War, Franklin was appointed Brigadier General of Volunteers. He rose from brigade to corps command in the Army of the Potomac. He saw action in the Peninsula Campaign, South Mountain, Antietam, and Fredericksburg. At Antietam, his VI Corps was in reserve and he tried in vain to convince Major Gen. Edwin V. Sumner to allow his corps to exploit a weakened position in the Confederate center.
At Fredericksburg, Franklin commanded the "Left Grand Division" which failed in its assaults against the Confederate right, commanded by Lieutenant Gen. Thomas J. "Stonewall" Jackson. Army of the Potomac commander Major Gen. Ambrose E. Burnside blamed him personally for this failure. He was wounded in the battle. As political intrigue swept the Union Army after Fredericksburg and the infamous Mud March, he was alleged to be a principal instigator of the "cabal" against Burnside's leadership. Burnside caused considerable political difficulty for Franklin in return, offering damaging testimony before the powerful U.S. Congress Joint Committee on the Conduct of the War and keeping him from field duty for months.
Franklin was reassigned to corps command in the Department of the Gulf and participated in the ill-fated Red River Campaign. He was wounded in the leg at Mansfield. Returning from the field with his injury, he was captured by Confederate troops in a train near Washington, D.C., in July, 1864, but escaped the following day. The remainder of his army career was limited by disability from his wound and marred by his series of political and command misfortunes. He was unable serve in any more senior commands, even with the assistance of Lieutenant Gen. Ulysses S. Grant.
After the war, Franklin relocated to Connecticut and became the general manager of the Colt Firearms Manufacturing Company, where he worked for 22 years. In that capacity, he displayed excellent skills as an engineer and administrator. He was an elector in the 1876 Presidential election, and later served as the U.S. Commissioner-General for the Paris Exposition of 1888. He is buried near his birthplace in York, Pennsylvania.
Promotions:
Brigadier General - May 18, 1861
Major General - March 13, 1865
Major Commands:
Brigadier General of Volunteers (May 1861)
1st Brigade/3rd Division
VI Corps
Major General of Volunteers
Left Grand Division
XIX Corps