Brigadier General Hugh J. Kilpatrick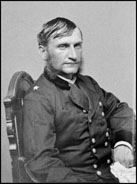 Kilpatrick, Hugh Judson
January 14, 1836 near
Deckertown, New Jersey
December 4, 1881
Santiago, Chile
Union
Kilpatrick was the fourth child of Col. Simon Kilpatrick and Julia Wickham. He was born on the family farm in the Wantage Township. He graduated from West Point in 1861, just after the start of the war, ranked 17 out of 45 in his class. He was assigned in the artillery-cavalry and commissioned a 2nd lieutenant in the 1st U.S. Artillery. Within 3 days, he was a captain in the 5th New York Infantry, the "Duryea's Zouaves".
Kilpatrick was the first Union army officer to be wounded in the Civil War, struck in the thigh by canister fire while leading a company at Big Bethel. By September 25, he was a Lieutenant Colonel, in the 2nd New York Cavalry. He next went served in the defenses of Washington, D.C. until January 29, 1862, when he was sent to Kansas as the Chief of Artillery on Brigadier Gen. James H. Lane's Texas Expedition. When he returned to his regiment, he participated in raids and skirmishes at Carmel Church, Brandy Station, Freeman's Ford, Sulphur Springs, Waterloo Bridge, Thoroughfare Gap, and Haymarket.
Assignments were initially quiet for Kilpatrick, serving in staff jobs and in minor cavalry skirmishes. At the 2nd Bull Run, he raided the Virginia Central Railroad early in the campaign and then ordered a twilight cavalry charge the first evening of the battle, losing a full squadron of cavalrymen. He was promoted to full Colonel that December 6.
Kilpatrick was aggressive, fearless, ambitious, and blustery. He was a master, in his mid-twenties, of using political influence to get ahead. His men had little love for his manner and his willingness to exhaust men and horses and to order suicidal mounted cavalry charges. The widespread nickname they used for Kilpatrick was "Kill Cavalry", for using tactics in battle that were considered as a reckless disregard for lives of soldiers under his command . He also had a bad reputation with others in the Army. His camps were poorly maintained and frequented by prostitutes, often visiting himself. He was jailed in 1862 on charges of corruption, accused of selling captured Confederate goods for personal gain. He was jailed again for a drunken spree in Washington, D.C., and for allegedly accepting bribes in the procurement of horses for his command.
In February 1863, Major Gen. Joseph Hooker created a Cavalry Corps in the Army of the Potomac, commanded by Major Gen. George Stoneman. Kilpatrick assumed command of the 1st Brigade, 2nd Division. In the Chancellorsville Campaign, Stoneman's cavalry was ordered to swing deeply behind Gen. Robert E. Lee's army and destroy railroads and supplies. He did just that. Although the corps failed to distract Lee as intended, he achieved fame by aggressively capturing wagons, burning bridges, and riding around Lee, almost to the outskirts of Richmond, Virginia.
At the beginning of the Gettysburg Campaign, Kilpatrick fought at Brandy Station, the largest cavalry battle of the war. He was promoted to Brigadier General, fought at Aldie and Upperville, and assumed division command 3 days before Gettysburg. On June 30, he clashed briefly with Major Gen. J.E.B. Stuart's cavalry at Hanover, but then proceeded on a wild goose chase in pursuit of Stuart, rather than fulfilling his mission of intelligence gathering.
On July 3, after Pickett's Charge, Kilpatrick was ordered by Major Gens. George G. Meade and Alfred Pleasonton to launch a cavalry charge against the infantry positions of Lieutenant Gen. James Longstreet's Corps on the Confederate right flank, just west of Little Round Top. His lone brigade commander, Brigadier Gen. Elon Farnsworth, protested against the futility of such a move, but obeyed orders; Kilpatrick essentially questioned his bravery and dared him to charge. Farnsworth was killed in the attack and his brigade suffered significant losses. He and the rest of the cavalry pursued and harassed Lee during his retreat back to Virginia. That fall, he took part in the Kilpatrick-Dahlgren Raid.
Just before the start of Lieutenant Gen. Ulysses S Grant's Overland Campaign in the spring of 1864, Kilpatrick conducted a raid toward Richmond and through the Virginia Peninsula, hoping to rescue Union prisoners at Belle Isle and Libby Prison. He destroyed much property and had many encounters with the enemy, but was unsuccessful in his aims. And one of his brigade commanders, Col. Ulric Dahlgren, son of Rear-Adm. John A. Dalhgren, was killed in the process. The "Kilpatrick-Dahlgren" expedition was such a fiasco that he found he was no longer welcome in the Eastern Theater. He transferred west to command the 3rd Division of the Cavalry Corps of the Army of the Cumberland, under Major Gen.William T. Sherman.
Starting in May 1864, Kilpatrick rode in the Atlanta Campaign. On May 13, he was severely wounded in the thigh at Resca and his injuries kept him out of the field until late July. He had considerable success raiding behind Confederate lines, tearing up railroads, and at one point rode his division completely around the Confederate positions in Atlanta.
Kilpatrick continued with Sherman in the "March to the Sea" Campaign to Savannah and north through the Carolinas Campaign. He delighted in destroying Confederate property. On 2 occasions, his coarse personal instincts betrayed him. The first occassion was when the Confederate cavalry raided his camp while he was in bed with prostitutes, and he was forced to flee for his life in his underclothes. He commanded a division of the Cavalry Corps in the Military Division of Mississippi from April to June, 1865, and was promoted to major general of volunteers on June 18, 1865. He was later brevetted a Brigadier General, Regular Army, for actions at Aldie, Gettysburg, Resaca, Fayetteville, and brevetted major general, Regular Army, for actions in the Carolinas Campaign. He resigned from the army on December 1, 1865.
He became active in politics as a Republican, and in 1880, he was an unsuccessful candidate for the U.S. Congress from New Jersey.
In 1865, Kilpatrick became active in politics as a Republican and was appointed U.S. Minister to Chile by President Andrew Johnson. He continued in that office by President Ulysses S. Grant, but was recalled in 1868. In 1872, he ran unsuccessfully ran for U.S. Congress. In March 1881, President James Garfield appointed him again to the post of U.S. Minister to Chile, where he died shortly after his arrival in Santiago. His remains were returned to the U.S. in 1887 and were interred at the West Point Post Cemetery.
Kilpatrick was both praised for the victories he achieved, and despised by southerners whose homes and towns he devastated.
Promotions:
2nd Lieutenant- May 6, 1861
Captain- May 9, 1861
Lieutenant Colonel - September 25, 1861
Colonel - December 6, 1862
Brigadier General - June 13, 1863
Major Commands:
I and III Cavalry Corps, Army of the Potomac (February 16- May 13, 1863)
2nd Brigade, 2nd Division, Cavalry Corps (June 14- 28, 1863)
3rd Division, Cavalry Corps, Army of the Potomac (June 28- July 15, 1863)
3rd Division, Cavalry Corps, Army of the Cumberland (April 26- May 13 and July 23- October 29, 1864)
3rd Division, Cavalry Corps, Military Division of Mississippi (October 29, 1864- June 26, 1865)