Major General John C. Fremont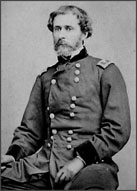 Frémont, John Charles
January 21, 1813
Savannah, Georgia
July 13, 1890
New York City, New York
Union
Frémont was born John Charles Fremon. He was the illegitimate son of a prominent Virginia society woman and a penniless French refugee, a social handicap that he helped to overcome by marrying Jessie Benton, the daughter of Thomas Hart Benton.
Frémont assisted and led multiple surveying expeditions through the western territory of the United States. In 1838 and 1839, he assisted Joseph Nicollet in exploring the lands between the Mississippi and Missouri Rivers. In 1841, he mapped portions of the Des Moines River, and from 1841 to 1846, he led exploration parties on the Oregon Trail and into the Sierra Nevada. During his expeditions in the Sierra Nevada, he became the first European American to view Lake Tahoe. He is also credited with determining that the Great Basin had no outlet to the sea.
In late 1846, Frémont led a military expedition of 300 men to capture Santa Barbara, California, during the Mexican War. Expecting to be ambushed in Gaviota Pass by the entire Mexican army, he led his unit over the Santa Ynez Mountains at San Marcos Pass during the rainy night of December 27, 1846, and captured the Presidio, and the town. Gen. Pico, recognizing that the war was lost, later surrendered to him rather than incur casualties.
On January 16, 1847, Frémont was appointed Governor of the California Territory following the Treaty of Cahuenga, which ended the Mexican War in California. He served from 1850-51 as one of the first pair of senators from California. In 1856, he was chosen the Republican Party's first presidential nominee. His popularity and his antislavery position were equally instrumental in his being chosen the Republican Party's first presidential nominee in 1856. He was the youngest man yet to run for the office. With Southern states threatening secession if he were elected, his loss to James Buchanan forestalled disunion for another 4 years.
On May 14, 1861, President Abraham Lincoln appointed Frémont a major general. Fremont was 1 of 4 major generals appointed by Lincoln and was easily the most celebrated. As a general, his major war contribution was more political than military when he focused Union attention on the role emancipation should play in the North's war policy.
Because of the influence of Frémont's many friends, Lincoln placed him in command of the Western Department, with headquarters in St. Louis. He issued a startling proclamation at the end of the month declaring martial law in Missouri and ordering that secessionists' property be confiscated and their slaves emancipated. This declaration led to a conflict with Lincoln. He spent more energy fortifying the city and developing flashy guard units than equipping the troops in the field. His forces suffered several losses, particularly a major defeat at Wilson's Creek that August. He contributed to the losses at Springfield and Liberty, where he lost many of his friends and political allies. Lincoln lost confidence in him and on November 2, 1861, revoked the proclamation altogether and removed him from command.
In March 1862, Fremont was made commander of the new Mountain Department, a position he also bungled. He lost several battles and resigned his post. He participated in the 1862 Shenandoah Valley Campaign. Later, he asked to be relieved of his duties when Major Gen. John Pope was appointed his superior.
Frémont tried to lead a third party in the 1864 Presidential elections. Frémont lost his properties in California, causing a decline in his personal fortunes. He tried the railroad industry and began to depend on his wife's income from her writing career.
Frémont's reputation was damaged by an 1873 conviction for his role in a swindle, but he nevertheless resumed his political career. He was appointed Governor of the Arizona Territory from 1878 to 1881. He died of peritonitis in a hotel in New York City and is buried in Rockland Cemetery, Piermont-on-Hudson, New York.
Promotions:
Major General - May ??, 1861
Major Commands:
Department of the West
Mountain Department