Major General Frederick Steele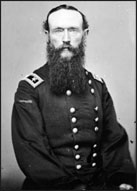 Steele, Frederick
January 14, 1819
Delhi, New York
January 12, 1868
San Mateo, California
Union
Steele graduated from West point in 1843, ranked 30 out of 39 in his class. He was assigned to the infantry and commissioned as a 2d lieutenant. He served in the Mexican War. He earned 2 brevets, a 1st lieutenant for Contreras and a captain for Chapultepec. Afterwards, he served in garrison duty and frontier duty.
Steele was promoted to 1st lieutenant on June 6, 1848, and served in California till 1853, and then principally in Minnesota, Kansas, and Nebraska till the civil war, receiving his captain's commission on February 5, 1855.
At the start of the Civil War, Steele was promoted to major and commanded a brigade in Missouri from June 11, 1861 till April 1862, being engaged at Dug Spring and Wilson's Creek, and also in charge of the southeastern district of that state after February. He had become Colonel of the 8th Iowa regiment on September 23, 1861, and on January 29, 1862, was commissioned brigadier-general of volunteers. He led a division in the Army of the Southwest from May till November, 1862, being engaged at Round Hill and Helena, Arkansas.
On 29 November 29, 1862, Steele was made major-general of volunteers, and, after engaging at Chickasaw Bayou and the Yazoo Expedition, he commanded a division in the Vicksburg Campaign, taking part in the operations at Young's Point, Grand Gulf, Arkansas Point, Jackson, and the siege of Vicksburg. For his services in this campaign, he received the brevet of Colonel in the regular army, July 4, 1863, and on August 26, he was promoted to lieutenant-Colonel. From July 1863 till January 6, 1864, he commanded the Army of Arkansas, taking part in the capture of Little Rock, and then till November 29, he commanded the department of that state.
Steele took part in the Red River Campaign and the Camden Expedition, where he was ultimately defeated at Jenkin's Ferry. In February 1865, he was transferred to the Department of the Gulf and led a division in the Union operations in the Mobile Campaign. At the close of the war received the brevet of brigadier-general of the Regular Army, for services in the capture of Little Rock, and that of major-general for services during the war. He was then transferred to Texas, and placed in command on the Rio Grande, and from December 21, 1865, he had charge of the Department of the Columbia. From November 23, 1867, till his death, he was on leave of absence. He had been promoted Colonel of the 20th infantry on July 28, 1866.
While on leave in California, Steele suffered an attack of apoplexy and fell from a carraige he was driving. as a result of the fall, he died.
Promotions:
Major- May 14, 1861
Colonel - ?? ??, 1861
Brigadier General USV- January ??, 1862
Major General USV- November ??, 1862
Brigadier General USA- March 13, 1865 (Brevet)
Major General USA- March 13, 1865 (Brevet)
Major Commands:
District of Southeast Missouri (January- May, 1862)
1st Division/ Army of Southwest Missouri (May 9- August 29, 1862)
1st Division/ Army of Southwest Missouri/ District of Eastern Arkansas (May- December, 1862)
Army of Southwest Missouri (August 29- October 7, 1862)
1st Division/ District of Eastern Arkansas/ Army of the Tennessee (December, 1862)
11th Division/ XIII Corps/ Army of the Tennessee (December, 1862)
4th Division (December 1862- January 1863)
1st Division/ XV Corps (January 4- July 27, 1863)
VII Corps/ Department of Arkansas (January 30- December 22, 1864)
Department of Arkansas (January 30- December 22, 1864)
1st Division/ Reserve Corps/ Army of the Gulf and District of Western Florida (March- June 1865)