Major General Nathaniel P. Banks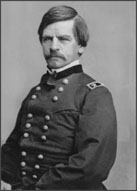 NAME
Banks, Nathaniel Prentiss
BORN
January 30, 1816
Waltham, Massachusetts
DIED
September 1, 1894
Waltham, Massachusetts
ARMY
Union
Banks received only a common school education and at an early age began work as a bobbinboy in a cotton factory, where he earned the nickname "Bobbin Boy", of which his father was superintendent. Subsequently he edited a weekly paper at Waltham, studied law and was admitted to the bar, his energy and his ability as a public speaker soon winning him distinction.
Banks served in the Free Soiler Party in the Massachusetts House of Representatives from 1849 to 1853, and was speaker in 1851 and 1852. He was president of the state Constitutional Convention of 1853, and in the same year was elected to the United States House of Representatives as a coalition candidate of Democrats and Free-Soilers. In 1854, he was reelected as a Know Nothing, but he soon left this party as well. He left the party because of opposition to the Kansas-Nebraska Act. He presided over a Republican convention in Massachusetts in 1855.
At the opening of the 34th Congress, the anti-Nebraska men gradually united in supporting Banks for speaker and was chosen on the 133rd ballot. This has been called the first national victory of the Republican party. Re-elected in 1856 as a Republican, he resigned his seat in December 1857, and was governor of Massachusetts from 1858 to 1861, a period marked by notable administrative and educational reforms. He then succeeded Major Gen. George B. McClellan as president of the Illinois Central railway. When McClellan entered upon his Peninsular Campaign in 1862, the important duty of defending Washington from the army of Lieutenant Gen. Thomas J. "Stonewall" Jackson fell to the corps commanded by Banks.
In the spring, Banks was ordered to move against Jackson in the Shenandoah Valley, but the latter with superior forces defeated him at Winchester (First) , Virginia, and forced him back to the Potomac River. On August 9, he again encountered Jackson at Cedar Mountain, and, though greatly outnumbered, succeeded in holding his ground after a very bloody battle. He suffered criticism for the defeat. He was later placed in command of the garrison at Washington, D.C. and in November, sailed from New York with a strong force to replace Major Gen. Benjamin F. Butler at New Orleans as commander of the Department of the Gulf.
Being ordered to co-operate with Lieutenant Gen. Ulysses S. Grant, who was then before Vicksburg, he invested the defenses of Port Hudson, Louisiana. After 3 attempts to carry the works by storm, he laid siege to the town. The garrison surrendered to him after learning that Vicksburg had fallen to Grant.
In the autumn of 1863, Banks organized a number of expeditions to Texas, chiefly for the purpose of preventing the French in Mexico from aiding the Confederates, and secured possession of the region near the mouths of the Nueces River and the Rio Grande River . But his Red River Campaign forced upon him by superior authority, was a complete failure. The Union Navy's gunboats were almost captured, and he returned to Mississippi without having accomplished anything significant in the attempt. He was removed from effective military command. In August 1865, he was mustered out of the service.
From 1865 to 1873, he was again a representative in Congress, serving as chairman of the committee on foreign affairs. A personal quarrel with President Ulysses Grant led in 1872, however, to his joining the Liberal-Republican revolt in support of Horace Greeley, and as the Liberal-Republican and Democratic candidate he was defeated for re-election.
In 1874, he was successful as a Democratic candidate, serving one term (1875-1877). Having rejoined the Republican party in 1876, he was United States marshal for Massachusetts from 1879 until 1888. He was when for the ninth time he was elected to Congress. Congress awarded him a $1,200 annual pension. He retired at the close of his term in 1891.
Promotions:
Major General USV - May 16, 1861
Major Commands:
Division, Department of Annapolis (ca. May - June 11, 1861)
Department of Annapolis (June 11 - July 19,1861)
Department of the Shenandoah (July 25 - August 17, 1861)
Division, Military District of the Potomac (August 17 - October 3, 1861)
Division, Army of the Potomac (October 3,1861 - March 13, 1862)
V Corps, Army of the Potomac (March 13 - April 4, 1862)
Department of the Shenandoah (April 4 - June 26, 1862)
II Corps, Army of Virginia (June 26 - September 4, 1862)
Military District of Washington, Army of the Potomac (September 7 - October 27, 1862)
XIX Corps, Department of the Gulf (December 16, 1862 - August 20, 1863)
Department of the Gulf (December 17, 1862-September 23, 1864 and April 22 - June 3, 1865)
Site Map
| Copyright © 2012
USwars.com
,