Major General Henry W. Halleck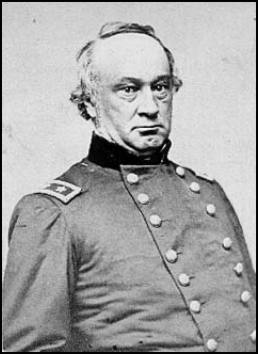 Halleck, Henry Wager
January 16, 1815
Westernville, New York
January 9, 1872
Louisville, Kentucky
Union
Halleck was the grandson-in-law of Alexander Hamilton. He attended Hudson Academy and Union College, then graduated from West Point in 1839, ranked 3 out of 31 in his class. He was assigned as a 2nd lieutenant of engineers. He remained at West Point for 2 years as an assistant professor of engineering.
In 1844, he traveled in Europe to study the French military and, upon returning, used his experience with French methods to write "Elements of Military Art and Science", which was well received by his military colleagues and was considered one of the definitive tactical treatises used by officers in the coming Civil War. His writings included: "Report on the Means of National Defense, Elements of Military Art and Science", and a translation of Henri Jomini's "Vie Politique et Militaire de Napoleon". Due to his scholarly pursuits, he became known as "Old Brains," but this nickname became derogatory during the Civil War.
During the Mexican War, Halleck served in California. Resigning from the Regular Army in 1854, he became a highly successful San Francisco lawyer and publisher, involved in the writing of the California Constitution and a noted collector of "Californiana". He was a director of the Almaden Quicksilver ( mercury) Company in San Jose, president of the Atlantic and Pacific Railroad, a builder in Monterey, and owner of the 30,000 acre Rancho Nicasio in Marin County, California. But he remained involved in military affairs, earning the trust of respected general Gen. Winfield Scott. Resigning as a captain in 1854, he became highly successful in the San Francisco law profession and helped frame the state's constitution. He maintained his interest in martial affairs through the militia and was recommended by Scott for a high post at the outset of the Civil War. By 1860, he was a major general of the California Militia.
At the beginning of the Civil War, Halleck earned the rank of major general in the Union Army. He commanded the Department of the Missouri and the Department of the Mississippi, in charge of all military activities in the Western Theater. The pinnacle of his military career was his appointment as the General -in-Chief of all the Union armies on July 23, 1862. When he commanded the Department of the Missouri, he replaced Major Gen. John C. Frémont. His enlarged command won victories at Pea Ridge, Island #10, and Shiloh. After Lieutenant Gen. Ulysses S Grant, his subordinate, had captured Fort Henry and Fort Donelson, Halleck was rewarded with command of all the forces in the West. Taking immediate command of his 3 united field armies after Shiloh, he proved to be an incapable field commander in his only campaign, the Corinth Campaign. The advance on Corinth was so slow that the Confederates were able to withdraw at their leisure. He was advancing at a rate of about one mile per day and then dug in.
As General -in-Chief, Halleck displayed tremendous administrative abilities, but many of his subordinates complained that he never gave adequate indications of what he wanted them to do or kept them informed of what other field leaders were doing. He was also noted for a tendency to blame others for failures and was deeply resented by most top generals.
On March 12, 1864, after Grant was promoted to lieutenant general and General -in-Chief, Halleck was relegated to Chief-of-Staff, responsible for the administration of the vast U.S. armies. He held various commands of the James River after Grant forced Gen. Robert E. Lee to surrender at Appomattox Court House.
Halleck was a pall-bearer at Lincoln's funeral. After the war, he commanded the Military Division of the Pacific in California. He died while commanding the Department of the South and is buried in Green-Wood Cemetery, Brooklyn, New York.
Although Halleck was a gifted tactician and organizer, he was not aggressive enough in field campaigns. He effectively communicated Lincoln's orders, so much so that Lincoln was quoted as saying he was effective as his "chief clerk". He had no aptitude for directing subordinate generals, such as McClellan and Major Gen. Joseph Hooker, to follow his strategic orders. His subordinates' victories earned him his promotions. He was effective in his position as Chief-of-Staff, although he was known as the "most hated man in Washington" for his surly disposition and his open disdain for politicians.
Promotions:
Major General USA- August 19, 1861
Major Commands:
Department of the Missouri (November 19,1861 - March 11, 1862)
Department of the Mississippi (March 13 - September 19, 1862)
General -in-Chief (July 11, 1862 - March 12,1864)
Chief of Staff (March 12,1864-ca. April 16, 1865)
Department of Virginia and Army of the James (April 16-June 28, 1865)
Military Division of the James (April 19 - June 27, 1865)