Major General Absalom Baird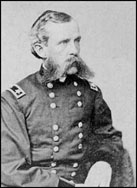 Baird, Absalom
August 20, 1824 Washington, PA
June 14, 1905
near Relay, Maryland
Union
Baird graduated at Washington College in 1841 and studied law. In 1849, he graduated from West Point , ranked 9 out of 43 in his class. He was assigned in the artillery served as 2nd lieutenant in Florida in the Seminole warfrom 1850 to 1853. He was promoted 1st lieutenant on December 24, 1853, and from 1853 to 1859 worked at West Point as an assistant professor of mathematics.
In March 1861, he took command of the light battery for the defense of Washington, D.C. and on May 11, was brevetted captain and appointed assistant in the Adjutant-General's department. In July 1861, he served as adjutant-general of Tyler's division in the detente of Washington and in the 1st Bull Run Campaign, being present at Blackburn's Ford and at Bull Run. He was promoted captain August 3, 1861, served as assistant adjutant-general and was promoted major 12 November 1861, and served as assistant inspector-general and chief of staff of the IV Corps in the Peninsular Campaign, where he was engaged at Yorktown and Williamsburg.
He commanded a brigade of the Army of the Ohio from May to September 1862, and was engaged in the capture of Cumberland Gap. From October 1862, to June 1863, he commanded the 3d Division of the Army of Kentucky about Lexington and Danville and in the operations of Gen. William S. Rosecrans in Tennessee, being engaged in the Tullahoma Campaign , the capture of Shelbyville, Dutch Gap, Pigeon Mountain, and Chickamauga.
For gallant and meritorious services at Chickamauga, he received the brevet of Lieutenant Colonel. In operations about Chattanooga, he commanded a division of the XIV Corps and gained the brevet rank of Colonel. He was engaged in the battle of Missionary Ridge, was in numerous skirmishes in pursuit of the Confederates in the invasion of Georgia, and was present at the surrender of Atlanta. He was brevetted major general of volunteers for services in the capture of Atlanta, in the pursuit of Lieutenant Gen. John B. Hood's army and the March to the Sea Campaign, and the capture of Savannah. He participated in the march through the Carolinas, was engaged at Bentonville and Raleigh, and was present at the surrender of Gen. Joseph E. Johnston's army at Durham station. For his services in the Atlanta Campaign, he received the brevet rank of Brigadier General in the Regular Army on March 13, 1865, with that of major general for services during the rebellion.
After the war, Baird served as Inspector-General of the Department of the Lakes from 1866 to 1868, the Department of Dakota until 1870, the Division of the South till 1872, and subsequently as Assistant Inspector-General of the Division of the Missouri.
Baird won the Congressional Medal of Honor during the war and was regarded as a fine divisional commander. He retired from the U.S. Army in 1888.
Promotions:
Captain - August 3, 1861
Lieutenant Colonel - ??, 1863
Colonel - ?
Brigadier General - March 13, 1865
Major General - ??, 1865
Major Commands:
Chief-of-Staff/ IV Corps
27th Brigade/7th Division/Army of the Ohio
divisions in the Army of Kentucky and Army of the Cumberland
1st Division/XIV Corps
3rd Division/XIV Corps