Major General Don C. Buell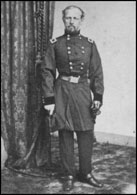 Buell, Don Carlos
April 27, 1822
Point Pleasant, Ohio
July 23, 1885
Mount McGregor, NY
Union
Buell's father was a prosperous farmer and a Catholic, and he died in 1823 in a cholera epidemis. In 1826, he was sent to live with an uncle, a prominent farmer and merchant, in Lawrenceburg, Indiana. Buell worked on the farm, but was also given a solid education in a local private school where he excelled in mathematics and horsemanship. His prosperous uncle procured for him admission to West Point. He graduated from West Point in 1841, ranked 32 out of 52 in his class. He was commissioned a second lieutenant in the infantry. He fought in the Seminole War, the Mexican War, and the Civil War. In the Mexican War, he served under both Gens. Zachary Taylor and Winfield Scott. He was brevetted 3 times for bravery and was wounded at Churubusco. Between the wars he served in the U.S. Army Adjutant General's office and as an adjutant in California.
At the start of the Civil War, Buell found himself on the West coast as the adjutant general of the Department of the Pacific, where he had spent the last 13 years.
He was commissioned a Brigadier General on May 17, 1861, worked on the defenses of Washington, D.C. Placed in command of a division in the Army of the Potomac, he took over Brigadier Gen. William T. Sherman's position as commander of the Department of the Ohio (which was eventually designated the Army of the Ohio and then the Army of the Cumberland), for operations in eastern Tennessee, an area with Union sympathies and considered important to the political efforts in the war. However, he essentially disregarded his orders and moved against Nashville instead, which he captured on February 25, 1862, against little opposition. (Confederate attentions were elsewhere at this time, as Major Gen. Ulysses S. Grant was capturing Forts Henry and Donelson.) On March 21, he was promoted to major general of volunteers.
At the battle of Shiloh, Buell reinforced Grant, helping him defeat the Confederates on April 7, 1862. He considered that his arrival was the primary reason that Grant avoided a major defeat, and Grant developed a professional grudge against Buell that would haunt his future career. He continued under Gen. Henry W. Halleck in the battle of Corinth. In June and July, he started a leisurely movement of 4 divisions towards Chattanooga, but his supply lines were disrupted by Confederate cavalry under Major Gen. Nathan Bedford Forrest and his offensive ground to a halt.
He got himself into more political difficulties during this period. Some Northerners suspected that he was a Southern sympathizer because he was one of the few Union officers who was a slaveholder (he inherited the slaves from his wife's family).
Suspicions continued as he enforced a strict policy of non-interference with Southern civilians during his operations in Tennessee and Alabama. A serious incident occurred on May 2, 1862, when the town of Athens, Alabama, was pillaged by Union soldiers. Buell, noted for his iron discipline, was infuriated and brought charges against his subordinate on the scene, Col. John B. Turchin. President Abraham Lincoln succumbed to pressure from Tennessee politicians and ordered Major Gen. George H. Thomas to replace Buell on September 30, 1862. However, Thomas refused the command and Lincoln relented, leaving Buell in command. Turchin avoided court-martial and was in fact promoted to Brigadier General.
In the fall of 1862, Confederate Gen. Braxton Bragg invaded Kentucky and Buell was forced to fall back as far north as the Ohio River. He fought Bragg at the indecisive battle of Perryville on October 8, 1862, which halted the Confederate invasion and forced them back into Tennessee, but he failed to pursue Bragg's withdrawal. The public was angered by this failure, and Buell's superiors were disappointed. Because of that decision, he was relieved of command on October 24, replaced by Major Gen. William S. Rosecrans. He never to lead troops again. Buell spent the next year and a half in Indianapolis, in military limbo, hoping that a military commission would exonerate him of blame; he claimed he had not pursued Bragg due to lack of supplies. Exoneration never came and he left military service on May 23, 1864.
Following the war, Buell lived in Indiana, and then in Kentucky, employed in the iron and coal industry as president of the Green River Iron Company. From 1885 to 1889, he was a government pension agent. When he died, he was buried in St. Louis, Missouri, at Bellefontaine Cemetery.
Promotions:
Lieutenant Colonel - May 11, 1861
Brigadier General USV- May 17, 1861
Major General USV- March 21, 1862
Major Commands:
Assistant Adjutant General (since January 25, 1848)
Assistant Adjutant General (February 25, 1861)
Lieutenant Colonel and Assistant Adjutant General (May 11, 1861)
Division, Army of the Potomac (October 3 - November 9, 1861)
Department of the Ohio (November 15, 1861 - March 11, 1862)
Army of the Ohio (November 15, 1861 - October 24, 1862)
Colonel and Assistant Adjutant General (July 17, 1862)